Tour of Britain: Wiggins out of Wales leg won by Koenig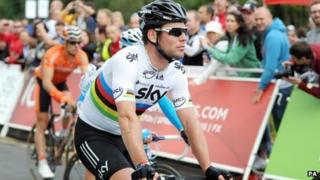 Thousands of fans turned out for the mid to south Wales leg of the Tour of Britain, despite Tour de France winner Bradley Wiggins being ruled out.
Wiggins, who has a stomach bug, failed to start Friday's stage six, which went 118 miles (190km) from Powys Castle in Welshpool to Caerphilly Castle.
The route included Newtown which hosted the Wales Rally GB on the same day.
Czech rider Leopold Koenig won the stage. Briton Jonathan Tiernan-Locke was second, and becomes overall leader.
First Minister Carwyn Jones presented Koenig with the prize for the stage victory before he headed off to Cardiff Bay for the Olympic and Paralympic celebration at the Senedd.
World champion Mark Cavendish also took part in stage six of the annual cycling race, along with Welsh rider Luke Rowe, whose home is close to the route on Caerphilly Mountain.
Wiggins, 32, has become one of the UK's most loved sporting stars after becoming the first British rider to win the Tour de France, then winning Olympic gold in the time trial at London 2012.
Despite his absence, large crowds still lined the route of the race as it wound its way through Powys and over the Brecon Beacons to the Cynon Valley, before two testing circuits of Caerphilly Mountain and the finish at Caerphilly Castle.
Spectators who gathered in the town ahead of the cyclists' arrival said they were disappointed they would not be seeing Wiggins.
Joel Bland, 18, from Lampeter, an amateur rider who had just ridden on the course, had arrived at the finish line in Caerphilly and had not heard the Tour de France winner had dropped out.
"I can't believe that. That's a shame. You are not going to see it often," he said.
"But there's many good riders in there and just to see them is a bonus, especially after having done a big ride myself."
Other spectators had heard an announcement over the public address system at the finish line.
Rich Cozens, who travelled to Caerphilly with his wife Heather from Bristol, said: "It would've been nice to get a few photos of Wiggins."
Paul Johnson, 53, from Aberdare, added: "I was looking forward to seeing Wiggins on the road after what he's done this year on the Tour de France."
A group of 10 south Wales mods, complete with scooters, had turned out to see Wiggins, who is known for his mod leanings and his love of scooters.
Russell Hughes, 45, said: "We're sad and a few of us have taken time off work but we're here in the spirit of things.
"We are hoping he may be around and might come and see us.
"He's a great ambassador for us and he's an excellent sportsman."
Despite the disappointment, there were still crowds about three deep at the finish line near Caerphilly Castle, while thousands of people were lining the route on Caerphilly Mountain - many were keen amateur riders who pitched up on their own bikes to watch.
The Tour of Britain started last Sunday and finishes this Sunday after a series of eight stages, and the current leader is Australian rider Leigh Howard.
In Newtown in Powys, there was double excitement as it hosted the tour and Wales Rally GB at the same time.
World rally crews were stopping to service their cars - including eight-time world rally champion Sebastien Loeb - while the cyclists raced through.