Car parks: Clear signs bid in MP Nick Smith's Bill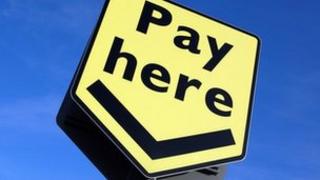 An MP is calling for a law change to stop motorists receiving fines due to unclear signs in private car parks.
Blaenau Gwent MP Nick Smith says poor signs lead to confusion and "open season" on drivers.
He is putting forward a Bill in the Commons, and says he has received support from around the UK from people hit by some operators' sharp practices.
From 1 October the parking trade body says it is to start overseeing a new fine appeals system.
The MP said his Bill would "deliver clear, easy to read signage in all car parks used by the public".
He said: "A car park in my constituency actually told motorists in micro-sized print 'do not leave the car park to retrieve change in order to purchase a valid ticket'."
One motorist, Kenneth Meek, found a £60 parking ticket when he returned to his car in Ebbw Vale, unaware that a free parking area used for years had started charging motorists, although he could not see any signage.
Self-regulated
"I was shocked," he said. "I have been using it for years but they didn't give enough information [about the changes]."
Mr Meek from Abertillery raised the issue with his MP, and the fine was waived.
Mr Smith introduced his motion, Regulation of Signage and Ticketing Technology (Publicly-Available Car Parks), using the 10-minute rule, a method used by backbenchers to try to introduce new legislation.
It was given an unopposed first reading on Tuesday afternoon, but stands little chance of making further progress due to a lack of parliamentary time.
Unlike council car parks and public street parking, private parking in shopping centres and supermarkets is not covered by any primary laws.
It means the landowner can set their own parking rules, and the penalties to impose if someone breaches them.
In April the MP called for a new official body to regulate private car parking companies which followed a jump in requests for the DVLA to hand over motorists' information so private parking fines can be issued.
The MP said DVLA requests had leapt from 270,000 to more than a million over the last four years.
Much of the industry is currently self-regulated by the British Parking Association (BPA), which enforces its own code of conduct on members.
The BPA is to oversee a new appeals system, which it says will work in a similar way to how the public can appeal against parking tickets issued by local councils.