Legionnaires' disease: Another case in Carmarthen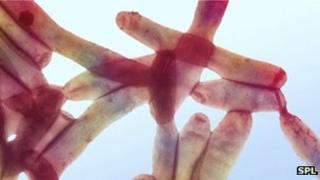 Another case of Legionnaires' disease has been confirmed in Carmarthen, taking the total to four, say health officials.
Public Health Wales and Carmarthenshire's environmental health officials are still trying to identify the source of the illness in the town.
Three people were treated initially after the outbreak was reported last week.
The disease is contracted by breathing in droplets from contaminated water.
Public Health Wales said the four cases all had links to the town and had all required hospital treatment.
It said information about the disease had been circulated to GPs and hospitals in the area so medical staff were aware of the symptoms.
Symptoms include breathlessness, chest pain and a dry cough, as well as fever, muscle aches, and sometimes vomiting and diarrhoea.
Legionnaires' disease can lead to pneumonia and can be fatal, so people with the symptoms are urged to seek medical advice.
Dr Mac Walapu, consultant in communicable disease control for Public Health Wales, said: "We are continuing to speak to the four people who have been unwell to gain a better understanding of their movements in the days before they became ill in order to try and identify the source of the disease.
"It is important to note that Legionnaires' disease is very rare and most people who come into contact with the bacteria that cause infection will not become ill.
"People over the age of 50, particularly men and smokers, are most at risk."
Meanwhile, the legionella bacteria was discovered in part of the water supply at Powys's Llandrindod Wells Hospital last week.