India consul for Wales: Raj Aggarwal first to hold new post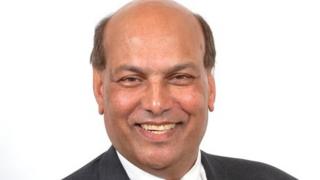 A Cardiff businessman has been appointed as the first Indian diplomat in Wales at a special ceremony.
Entrepreneur and philanthropist Raj Aggarwal has become India's honorary consul.
He will act on behalf of the Indian High Commission, looking after the needs of Indian nationals living and working in Wales.
His Aggarwal Group's business interests in south Wales include a chain of pharmacies.
'Privilege'
He was appointed during a ceremony at the India Centre in Cardiff on Wednesday evening, which was attended by the High Commissioner of India, Dr Jaimini Bhagwati, and the First Minister Carwyn Jones.
Mr Aggarwal's role also includes helping to create links between Welsh and Indian business, educational establishments and cultural organisations.
"This is a special privilege that I and my family will always cherish," he said.
"Wales is a dynamic small country and stronger links with the rising superpower that is India will be vital to its future prosperity.
"I will work tirelessly to build a deeper engagement between the two countries to which I and many Welsh people owe their allegiance."
India's High Commissioner Dr Bhagwati said Mr Aggarwal's appointment showed the commitment of the Indian government to continue to adapt to a changing UK.
"It also represents our aim to build on our existing links with the Welsh government and the people of Wales," Dr Bhagwati added.
Mr Aggarwal holds a number of public appointments including board member of the Wales International Business Council, member of the council of Cardiff University, chairman of Community Pharmacy and deputy Lieutenant for South Glamorgan.
First Minister Carwyn Jones, who travelled to India on a trade mission earlier this year, said: "In India, I raised the issue of their government's representation here in Wales with the Ministry of External Affairs and I am delighted with this appointment."
Mr Aggarwal's first official engagement will be at a UK-India Business Conference in Cardiff on Thursday.