Dragon Multi-Skills and Sport: Back to basics for sport teaching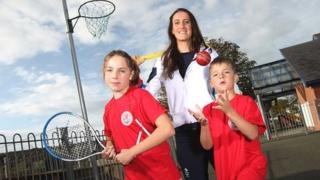 Young children in Wales will be taken back to basics to learn sporting skills, following the approach of countries like Australia and Canada.
Five to 11-year-olds will be taught more core physical skills, such as agility, balance and co-ordination, before moving onto specific sports.
The approach, aimed at raising standards, has been trialled in Carmarthenshire and Pembrokeshire.
Sport Wales said it was building on the legacy of the Olympics.
Teachers who have already taken part in Dragon Multi-Skills and Sport said it helped build confidence and develop more rounded skills before children move onto sports such as rugby to hockey.
The programme has been developed by Sport Wales, the organisation responsible for developing sport in Wales.
Chair Professor Laura McAllister said it was aimed at getting more children hooked on sport and bringing through the next generation of elite stars.
"It's important that children have the right skills as young as possible because it sets them on the path for better sporting experiences," she said.
'More skilful'
Basic skills such as agility, balance and co-ordination will be taught through drill sessions and games.
It will be used in schools, sports clubs and leisure centres and support and complement PE lessons.
Prof McAllister said the new approach would give children of different abilities the chance for a grounding in basic skills.
"If you are a parent and you take your child to a football or hockey session for example you would naturally expect your child to be concentrating on that sport, and that's great," she said.
"But, we just want to question, can the child play with their other foot? Can they do things with both hands? Can they play under pressure?
"These are the things that will make them more skilful and confident."
Evidence for the plan was taken from countries such as Canada, New Zealand and Australia and tailored to suit children in Wales.
'Coordination'
Education Minister Leighton Andrews said it was "crucial" to create a generation of children and young people with the "competence, confidence and motivation to sustain a lifelong participation in sport".
"Every child should be provided with basic skills from the earliest age in order to take part in whatever sport they choose," he added.
Kay Reynolds, of St Davids Junior Netball Club in Pembrokeshire, said her pupils had developed new skills during the pilot programme.
"The children have been using their hands as rackets, they have been using hockey sticks, tennis bats. They have been using balance boards, ladders and they have been working more in small groups," she said.
"I tried to explain to them why we were doing it and that we were developing their agility, their balance and their coordination to make them more rounded sports people."