Food banks increase as Wales incomes fall £80 per month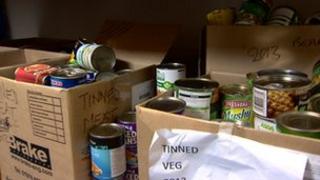 Household incomes in Wales fell by an average of £80 per month in one year, official figures have shown.
Office of National Statistics figures from 2009/10 to 2010/11 say average UK weekly income fell from £373 to £359, with average household income in Wales 12% lower than the country as a whole.
At the same time over the past year, the number given food parcels in Wales has reached a record 23,000.
New food banks have been opening to help people in poverty, says a charity.
The Trussell Trust, which runs some food banks, says nearly one in four of the families it assists have some money coming in, but not enough.
Flintshire Food Bank, which opened in Mold in May, has already helped 400 people, giving them three meals a day on three days a week.
Food banks are now opening in Wrexham, Denbigh, Caernarfon and Pwllheli, while in south Wales three have recently opened in Abergavenny, Chepstow and the Vale of Glamorgan.
There are now 23 in total across Wales.
To be eligible for a parcel, a person or family has to considered in need by a charity or agency and given a voucher, which they present to the food bank.
Andy Leake, one of the founders of Flintshire Food Bank, said: "People come whose benefit has been stopped for assessment. When their family tax credit gets stopped suddenly they find themselves with no money in the bank.
"People who have lost their jobs sign on for jobseeker's allowance - a six week waiting gap. If you've got no family and no savings, what do you do? How do you feed your family?
"There's more and more unemployment throughout Wales, so it's a really desperate situation."
One recipient, Sheila Pierce, works part-time as an assistant cook but says she does not earn enough to survive.
"I can only find 16 hours work. There is no other work out there and I'm disabled, so it's very difficult," she told BBC Wales.
"[The food parcel] keeps me going. I wouldn't have anything to eat otherwise.
"It was gut-wrenching [to ask for help]. Not even a second-class person, something beneath a slug. Food prices keep going up and wages just stay the same."
Wholesalers have been set up to act as a central collection and distribution point.
One is Fare Share Cymru in Cardiff, which has taken in 140 tonnes of donated groceries in 14 months from organisations ranging from multinationals such as Nestle to Welsh businesses such as Tillery Valley Foods and Peter's Pies.
Tillery Valley Foods site director Phil Hall said diverting foods which had been packaged wrongly to Fare Share prevented them ending up in the bin and also saved the company landfill costs, as well as boosting employee morale.
Adrian Curtis, Wales regional director of the Trussell Trust, said: "With rising food prices and fuel prices, and salaries stagnating, I think more people are likely to find themselves struggling to buy food for their family and pay the bills each month.
"You'd expect people on welfare payments to be the people who would find themselves in a crisis but what we are seeing is a rising amount of working families who are finding it very difficult to put food on the tables for their families and pay the bills each month."
A Department of Works and Pensions spokesperson said the UK government already provided a safety net for essentials like food and housing through the benefits system.
"Our welfare reforms will transform the lives of some of the poorest families in society by making work pay and lifting thousands out of poverty," said the spokesperson.
"We welcome the contribution of voluntary organisations such as the Trussell Trust for the work they do with local communities. That is why Jobcentre Plus - for the first time - is now referring people to their services."