Chris Buck plays alongside Guns N'Roses 'hero' Slash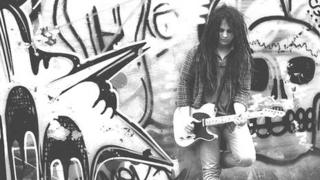 Two years after he was praised by the former manager of Guns N'Roses, a south Wales valleys guitarist is preparing for the release of his debut album.
Chris Buck, 21, from Abercarn, near Caerphilly, this month played in front of 10,000 people alongside one of his heroes, Slash, from Guns N'Roses.
Buck was taken under the wing of the rock band's former manager, Alan Niven.
With Niven's help, he has now cut an album in Phoenix, Arizona, to be released in January.
But the young guitarist was back home in south Wales when Slash called a couple of weeks ago inviting him on stage during his own six-date tour.
"Over the past couple of months, Alan has been sending stuff of mine over for Slash to have a listen to, " said Buck.
"Out of the blue I got a phone call from Slash. It was quite surreal.
"He is someone I have long idolised. Along with Eric Clapton and rest, he is one of the people I aspire to play like."
Buck was introduced to the audience at Birmingham's National Indoor Arena as being a local lad before the pair jammed for around eight minutes.
In fact, Buck splits his time between Birmingham, where his girlfriend lives, and Wales, where he stays with his parents while gigging in around Newport with covers band Ninth Gate.
The previous band in which he played, the Tom Hollister Trio, broke up a year ago leaving him free to take up Niven's offer of the Phoenix trip, he said.
He said Niven teamed him up with "some very capable musicians" whose experience include playing with Marvin Gaye, Stevie Wonder and Sly and the Family Stone, he said.
"We did the album in three-and-a-half weeks. It's primarily a covers album but with a bluesy spin on it," he said.
Star sign
They named the album Postcards from Capricorn because most of the team turned out to share that star sign, he said, though the band is billed as Chris Buck and Big Horns.
In the meantime, Buck says he is sticking to his ambition to make music his living.
He said: "I've been gigging and that has given me a meagre form of income.
"I've been trying to get a band together to write and play my own material but is proved slightly more difficult than I anticipated."