Children's commissioner: Child poverty approach concern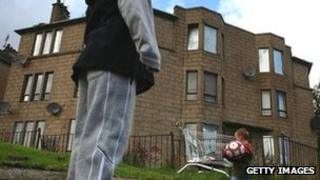 The children's commissioner has again voiced concerns over the Welsh government's approach to child poverty.
Keith Towler used his child poverty action plan to question children being part of an overarching poverty action plan which also covered adults.
Mr Towler said the number of materially deprived children had increased since its low point in 2006-07.
The Welsh government says it is focused on all those in poverty but still prioritising the needs of children.
Mr Towler said he had already raised concerns over the Welsh government's approach to include child poverty in a wider action plan which includes adults too.
"Child poverty is the result of family poverty. However a child poverty approach to tackling the issue is essentially different from a family poverty approach," he said.
"A child poverty approach puts the child at the centre of all policy measures and acknowledges the child as a rights bearer with rights that extend beyond the family."
He said framing it around the United Nations Convention on the Rights of the Child (UNCRC) brought more distinctiveness and should be the basis for policy initiatives.
The UNCRC is an international human rights treaty that applies to all children and gives them a range of civil, political, economic, social and cultural rights.
Mr Towler, whose job is to stand up and speak out for children, said child poverty had been a consistent issue of concern for his office since it was set up in 2001.
He said it had affected between a quarter and one-third of children and young people throughout his term.
"The recession and welfare reform changes mean that this situation does not look set to improve," he wrote.
Child poverty is defined as the percentage of children aged up to 17 years living in households with an income below 60% of the national median income.
The median - the middle figure in a set of numbers - for 2010-2011 was £419 a week, down from £432 the year before.
Mr Towler said young people affected by poverty are at risk of entering adulthood "with limited opportunities to realise their potential" all because they come from low income households.
A recent Save the Children survey suggested 53% of Welsh children in low income households were worried their parents were finding it hard to pay for essentials such as food and clothing.
However, a separate study in June found that the proportion of children in poverty in Wales had fallen to its lowest level since the mid-1990s.
A Welsh government spokesperson said it had only just received the report and would respond formally in due course.
"At this time of increasing austerity we believe it is right to extend our focus to all those living in poverty while still prioritising the needs of children, based on our overall approach to implementation of the principles of the UNCRC," said the spokesperson.
Ministers have said they are committed to eradicating child poverty by 2020, although the children's commissioner has expressed doubts about whether the target could be met.