Delays to Aberystwyth hourly rail plan frustrates MP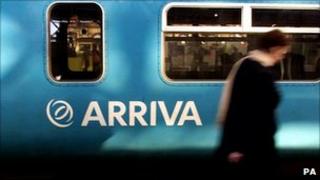 An MP says he is frustrated at further delays to a planned hourly rail service for Aberystwyth due to start last year.
Ceredigion MP Mark Williams said proposals had been pushed back to 2014-15 because the single track Cambrian Line was not ready for the service.
Network Rail said improvements were being made and the line could be ready by December 2013.
The Welsh government said it expected the service to start in 2014-15 subject to funding being available.
Residents and passenger groups have long complained that a two-hour gap between trains from the university town is too long.
Proposals for an hourly service were first mooted in 2006, and the Welsh government's national transport plan scheduled it to start in 2011.
It announced a £13m project to improve the Cambrian Line in 2007 which included passing loops so trains could pass without being delayed.
But Network Rail has had problems with a European signalling system (ERTMS) on the line which became the first railway in Britain to use it in 2010.
'Frustrating'
The MP said despite improvements to the signalling, the tracks needed work.
Test runs over the Cambrian Line have shown that if trains were to run every hour there would be such little margin for error that a late-running service could cause delays.
"The prospect of a delay of up to another three years for an hourly service from Aberystwyth is frustrating," Mr Williams said.
"I appreciate that there currently is not the physical capacity on the line, but residents of mid Wales have been promised an hourly service for years, and the demand is certainly there.
"I hope the assembly can secure funding to ensure this project gets underway as soon as is possible."
Around eight trains a day cover the route between Aberystwyth and Birmingham, stopping at towns and villages including Borth, Machynlleth, Caersws, Newtown, Welshpool and Shrewsbury in Shropshire.
Signalling
A Network Rail spokesman said: "The Network Rail project team has worked closely with Arriva Trains Wales and the Welsh government to ensure that we deliver the objective and that it is operationally achievable.
"In hindsight, we probably would have wished to approach the project differently, as combining additional work and the new ERTMS technology at this stage has presented some difficulties.
"The main focus for Network Rail has been on installing the signalling equipment and getting this working, as without it the whole route would be affected."
A Welsh government spokesman said: "Confirming the date for the additional train services will be subject to the completion of Network Rail's further infrastructure upgrade, but we would look to the new services commencing in 2014-15 subject to availability of funding."