Surgeon Dr Ahmed Abdelgawad public decency charge dropped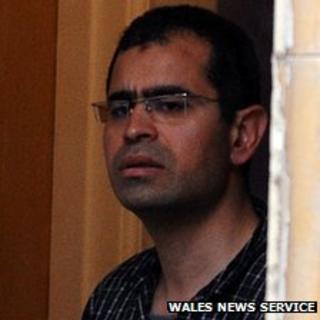 A heart surgeon accused of looking up a woman's skirt in a supermarket has had the case against him dropped.
Ahmed Abdelgawad, 35, was alleged to have lain down in an aisle at Tesco store on Swansea marina to look up the shopper's skirt.
The surgeon, of Roath, Cardiff, denied outraging public decency.
Swansea Magistrates discharged him on Thursday after the Crown Prosecution Service (CPS) decided not to continue the case.
Mr Abdelgawad was working as a heart surgeon at two Swansea hospitals when he was arrested earlier this year.
He initially admitted a charge but a change of plea was later accepted by the court.
Public interest
Iwan Jenkins, district crown prosecutor for the CPS in Wales, said all cases have to be considered in line with the Code for Crown Prosecutors, which is the guidance lawyers are required follow.
"The code states that, for a criminal case to proceed, there must be sufficient evidence available to suggest a realistic prospect of conviction in a court of law," he said.
"A case must also be deemed to be in the public interest.
"Cases are kept under review throughout the criminal justice process, to ensure that the requirements of the code continue to be met. If they do not, then a case may be discontinued.
"In this case, our latest review took account of recent expert medical advice and we concluded that a criminal prosecution is not in the public interest."
A General Medical Council (GMC) spokesman said Mr Abdelgawad had been suspended until further notice.
A spokesman said: "He has been suspended from the medical register and may not practise as a doctor in the UK."