Exercise Cambrian Patrol: Soldiers' test on Welsh mountains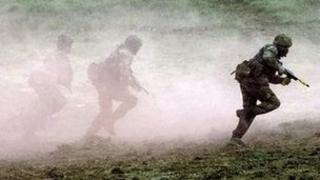 Soldiers from around the world will test themselves against the harsh terrain of a Welsh mountain range in an extensive Nato training exercise.
Troops from around the UK, Pakistan, the US, Australia and Estonia will be among 80 teams taking part in Exercise Cambrian Patrol in the Brecon Beacons.
They will face a 55km (34 miles) patrol, carrying their kit and facing skills tests, such as ambushes.
The exercise, considered to be one of the world's toughest, starts on Friday.
The annual event, now in its 52nd year, will see the teams of eight soldiers challenged over two days in the Brecon Beacons and nearby Black Mountains.
They will have to march along the mountainous route carrying full personal kit and equipment, weighing in at some 60lbs (27kg).
Navigating both by day and night, the patrols face many testing and specialist challenges, including observation, cold river crossings in full kit without boats, first-aid and defensive shooting under attack.
Major Mario Pirozzolo, of 160 (W) Brigade, which organises the event, said the terrain of Wales added to the challenge.
"It's well and truly up and down hills and every time we run it [the exercise] we seem to get rain and wind," he said.
"The exercise is renowned around the world and it's challenging.
"The soldiers often compete to get into the teams for the exercise.
"It's quite a sought-after opportunity. It's not a competition, it's an exercise, so they don't really win anything. They get a gold, silver or bronze medal.
"But it's more about the prestige and effort put in."
Modern-day challenges
Teams of male and female soldiers include members of the Territorial Army and University Officer Training Corps.
Exercise Cambrian Patrol began in 1959, when a group of Welsh Territorial Army soldiers designed a weekend training event, featuring long distance marching over the Cambrian Mountains.
It culminated in a shooting match on the Sennybridge training area.
The exercise has grown in stature over the years, with its format updated to meet modern day challenges.
It is regarded as one of the most prestigious patrolling events of its kind in Nato.