How policing evolved from 'usual suspects' approach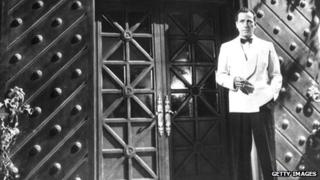 It was a famous line from a classic film but for criminologist Prof Michael Levi, "round up the usual suspects" also summed up the British approach to policing for many decades.
Captain Renault (Claude Rains) uses the line to save the life of Rick (Humphrey Bogart) after he shoots Nazi Major Strasser at the end of the much loved 1942 movie Casablanca.
It's a phrase associated with bringing in regular scapegoats for a crime rather than the actual perpetrators.
The new police and crime commissioners to be elected across Wales and England on 15 November will demand a far more imaginative approach from their chief constables.
Prof Levi, professor of criminology at Cardiff University, said the "usual suspects" method was a familiar one to officers until cultural and technological changes in the latter half of the 20th Century changed policing for good.
"With the traditional model there were the disreputable poor and within that there were some criminal classes in the police view," he said.
"Once you were a regular suspect - the same as in Casablanca - police operated on that basis.
"If you were part of this criminal group, then it didn't really matter if you had done it this time, you would be certain to do it again."
Prof Levi said it was a particularly dubious method for trying to solve serious crime such as homicide and rape - and it could be brutal.
"The idea was you had a rough working class that had to be kept in line," he said.
"If you tried to retaliate against the police then you became 'police property', which was the phrase used.
"In order to retain respect, criminals had to be shown who was in charge - a John Wayne model of policing."
But Prof Levi said the approach "fell away in the 1970s" as several important changes led to a rethink of British policing.
"Gradually, particularly through professionalisation, a more complicated model of crime was put together and that [approach] was no longer a tolerable model of policing," he said.
"DNA made a big difference, cyber crime started to come along."
Prof Levi said research and in-depth crime surveys also had a major influence on how central government sought to tackle crime.
"People started to know more about patterns of crime and victimisation and repeat victimisation," he said.
"Some people were more likely to be repeat victims through domestic violence and burglary.
"What could you do in terms of victim crime and what could you do in domestic violence where you knew who the offender was? What could you do to make that less likely?
"You could call it scientific policing if you like."
But while research and technology changed policing beyond recognition, there is still support for more traditional methods of fighting crime.
Governments are particularly sensitive to claims that they have reduced the numbers of bobbies on the beat.
It is an issue Ross Mather, who served as a police officer for 30 years and now runs the South Wales Police museum as a volunteer, feels passionately about.
"I think it's just a matter of people having lost contact with the police. There isn't the contact at street level basically," he said.
"I can go back to when I joined the police force in 1969, the Glamorgan Constabulary before South Wales Police, and at that point the majority of officers were going out walking the beat.
"I would walk in the area and I would stop and talk to people and go in shops - and go in for a cup of tea sometimes - and that's all been lost and not something I think will ever be retrieved."
He said police forces were trying to recreate the beat bobby through police community support officers - but it was not the same.
"You haven't got the person on the streets who has got the powers to do things like arrests, stop and search, and detaining," he said.
But for Mr Mather, 62, who spent the best part of his career as a traffic officer before retiring in 1999, there have also been many changes for the better at all levels of policing - as his museum illustrates.
"Technology, communications - it's all changed," he said.
Finger printing
"You are talking about airwave sets that are more or less radios and telephones all in one," he said.
"And it's all ultra high frequency so the days when you could listen in to police messages on VHF are long gone!"
He also pointed to the use of automatic number plate recognition, which is used by police to track vehicles, and the way finger printing is now done electronically.
"And using DNA kept from incidents years ago, when they didn't have the technology but held on to things just in case anything came along, they've been able to solve things many many years old," he said.
"I think the advancement of technology is a brilliant thing."