Swansea City mascot: Secret behind award winning picture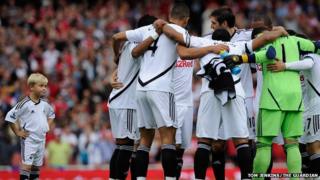 The young Swansea City mascot who was the subject of an award-winning football photograph has revealed the secret behind the striking image.
Mackenzie Clayton, from Abercraf in the Upper Swansea Valley, was pictured looking disgruntled as his heroes took part in a pre-match huddle before last season's match at Arsenal.
The eight-year-old, from Abercraf in the Upper Swansea Valley, said he had simply wanted to be in the huddle with the players.
Guardian and Observer sports photographer Tom Jenkins's picture was named the Barclays best football photo of the 2011-12 season.
An excited Mackenzie told BBC Wales: "I couldn't believe the picture won!"
His mother Sandra said the family had loved the photograph when it was published, and it had been stuck onto the fridge.
"I thought 'typical, Mackenzie's standing there with his hands on his hips'!" she said.
But she said despite how he appeared in the picture, he had enjoyed a great day as mascot.
And she was amazed some time later when she received a phone call saying the photograph had been shortlisted for an award.
"The Premier League rang [about the photograph competition] and I thought it was someone taking the mick," she said.
"He phoned about getting permission to use the photo and I said yes.
"We went to look at the other photos it was against and there were some lovely photos and I thought 'what will be, will be'."
As a family of Swansea City season ticket holders, including Mackenzie's older brother Harrison, they were all delighted when Mr Jenkins's picture won.
Favourite player
They go to all the home games and Mackenzie has a ritual in which he interacts with the players.
"It's the norm for Mackenzie after every home game that we have to wait for the players to come out and he gives them the lowdown on how the game went, come rain or shine," his mother said.
His favourite player is striker Danny Graham because of his goalscoring but he loves the entire club.
He has been a mascot on several occasions and is doing the job again when Swansea travel to Fulham on 29 December.
But will there be a replay of the now famous hands on hips stance from him as the players get into their huddle?
"Maybe!" replied Mackenzie, laughing.