Alcohol Concern Cymru claims white collar workers at risk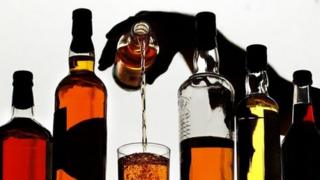 Professional people may be up to four times more likely to develop drink problems than the unemployed or blue-collar workers, campaigners claim.
Alcohol Concern Cymru (ACC) is highlighting white collar workers at the start of alcohol awareness week.
It claims medical workers are three times more likely than the general population to develop problems.
But a group representing pub landlords said problems were not helped by cheap alcohol on sale in supermarkets.
The annual awareness week is organised in the run-up to Christmas.
ACC Cymru says people working in law are most at risk, claiming up to 24% can expect to experience drink-related problems during the course of their career.
The campaign is urging people to look at their drinking habits in the run-up to Christmas.
Andrew Misell, of ACC, said: "There are a lot of stereotypes out there about what sort of people get into difficulties with alcohol.
"People often think of street drinkers or young people out in town on a Saturday night.
"The reality is that the professional working environment can also be full of pitfalls when it comes to alcohol."
He added: "The recession has meant more pressure at work for many, with tighter deadlines, fewer resources and increased workloads, making a drink seem like the perfect way to unwind after a busy day at the office.
"But one or two drinks can often lead to having a few more, and people may not realise how this stacks up throughout the week."
As well as work pressures, Alcohol Concern Cymru says other factors frequently highlighted by professionals include:
A work-place alcohol culture
Having the financial means to drink too much
A sense that they are not the type to develop a drink problem
Fear of the personal and professional consequences of admitting they have a problem and seeking help
A "vicious circle" effect, whereby tiredness and hangovers from the night before make work even more stressful, increasing the desire to drink afterwards
Dr Raman Sakhuja, of the Royal College of Psychiatrists, said: "In clinical practice, I see professionals who initially started consuming alcohol to unwind or to handle stress as a way of a means to coping, but find that the quantity of this drinking gradually increased and that later on alcohol started to consume them.
"I think we are all aware from research that there are certain occupations that are at risk of developing problems with alcohol and the professionals do seem to fall in that category.
"It is not surprising that people use alcohol as a way of unwinding. It seems in the current society that unwinding and alcohol go side by side, and obviously with stress one of the ways of unwinding that people find is shelter in alcohol."
He added: "My concern is that there are still far too many people who are drinking far more than the safe limits, which then puts them at risk of becoming harmful users and dependent users.
'Honest'
Dr Vivienne Nathanson, the BMA's head of science and ethics, said: "There certainly is an issue with the hidden drinking of very many professionals.
"Often it goes undiagnosed until it's too late; whether that be from a professional or health stand-point.
"But the good news is that whilst white-collar workers can be more susceptible to alcohol-related problems, when they seek help they also respond extremely well to treatment.
"People need to be honest with themselves, work-places need to create a supportive environment where staff feel they can ask for help without fear of prejudice, and there needs to be more readily-available access to the appropriate services."
Meanwhile, health minister Lesley Griffiths reminded people that alcohol-related illnesses were costing the NHS in Wales £70m a year.
A new survey of 1,000 people for the Welsh government's Change4Life Wales campaign found more than half under-estimated the number of units in a standard 175 ml glass of wine, (2.3 units) and 76% underestimated the units in a pint of strong beer (3 units).
Colin Davies, vice chair of the Rhondda's Licensed Victuallers Association (LVA), said: "I think drink problems are coming from the cheap booze sold in the supermarkets.
"If you go to a hotel or a restaurant, you drink to what's in your pocket, what you can afford.
"It seems to be that people are drinking two or three times as much because they can get it so cheap at the supermarkets."