Tata Steel Port Talbot job cuts 'devastating' for wider area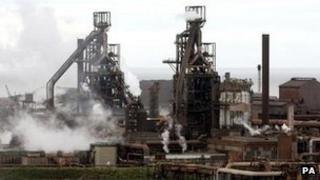 Local people described 600 job cuts at Tata Steel plants in south Wales as "devastating" and said staff at Port Talbot believed major investment in that plant would secure their futures.
Most of the cuts are management and administrative posts and the fear is they will hit the wider area.
Smaller sites in Crosskeys in Caerphilly county, and one near Tredegar, Blaenau Gwent, will close.
However, 120 jobs will be created at a new hot strip rolling mill at Llanwern.
Aberavon MP Hywel Francis said despite the news he still believes Tata has long-term faith in its Port Talbot steelworks after it announced plans to restart a blast furnace as part of a £250m investment at the works.
"It is a bitter blow to the local community and further afield as well," said Mr Francis referring to the Port Talbot works where most of the jobs will go.
"Part of the announcement to be fair to Tata was that they are actually showing their faith in steel-making in Wales and Port Talbot in particular by announcing that they will be igniting the number four blast furnace sometime in the new year.
'Shocking'
"That indicates that the long term plans for steelmaking locally are still intact," he told BBC Radio Wales.
Three generations of Port Talbot resident Belinda Newtown's family have worked at the town's steelworks.
She described the cuts as devastating as local people felt Tata's investment in Port Talbot meant they had a "secure future".
"It is shocking to see that amount of jobs to go, especially so close to Christmas as well," she said.
She added the cuts will be felt by the wider area where workers spend their wages.
"Everybody will be affected... even the local paper shop," said Ms Newtown.
"It is devastating. We just can't believe it," she said.
Tata, which employs 19,000 people in its UK steel business, also announced that it would restart one of two blast furnaces at Port Talbot early next year as part of a £250m investment programme.
This will also lead to the restarting of a hot strip mill at Tata's site in Llanwern.
The company confirmed that the net effect in Wales of its announcement would be 584 fewer jobs.
'Difficult and unsettling time'
Karl Kohler, chief executive of Tata Steel's European operations, said the proposals were part of a strategy to "transform ourselves into an all-weather steel producer, capable of succeeding in difficult economic conditions".
He added: "These restructuring proposals will help make our business more successful and sustainable, but the job losses are regrettable and I know this will be a difficult and unsettling time for the employees and their families affected.
"We will be working with our trade unions and government at a national and local level to ensure we provide them with as much assistance and support as possible."
Tata said demand for steel in Europe had dropped by 25% since 2007 and was forecast to fall by another 10% this year.
But the company said it was committed to investment to help create long-term stability.
Unite union Wales secretary Andy Richards said the announcement marked a "dark day for Welsh workers and for the steel industry in Wales".
The Welsh government said the cuts were "very disappointing news, and a massive blow to those who will be losing their jobs".
Other job cuts include 155 in Yorkshire, 120 in the West Midlands and 30 on Teesside.