Black Friday: Welsh festive party night safety plans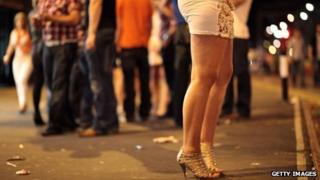 Police and medical teams around Wales have swung into action on one of the busiest party nights of the year as revellers celebrate Christmas.
Dubbed "Black Friday" or "Mad Friday", thousands of people are spending the night out in town and city centres.
Police and medical teams have plans aimed at keeping people safe.
The Safer Swansea Partnership is selling flip-flops after it saw women in previous years walking barefoot through the city at night.
South Wales Police and Gwent Police reminded young men, in particular, not to lose their temper on nights out over the festive period.
Posters and adverts have been put up in local pubs and clubs in south Wales reinforcing police safety messages, and a short film showing the consequences of drinking too much is on a campaign website: www.donthaveanightmare.org.uk.
Gwent Police and South Wales Police have also been posting crime prevention tips on their Twitter and Facebook accounts throughout the week.
South Wales Police assistant chief constable Julian Kirby said: "Town centres are getting busier now with more people going out to enjoy Christmas parties with friends and colleagues.
"Officers will be out on patrol to ensure people have a safe and enjoyable time, but they will not tolerate violence under any circumstances and we will intervene early to prevent incidents getting out of hand."
Wrexham Community Safety Partnership launched its annual Think Safe, Drink Safe campaign, which this year focuses on under-age drinking.
A help centre in the town's Brook Street is also new for 2012, with police, paramedics and street pastors providing night-time revellers with help and advice.
Chief Insp Alex Goss of North Wales Police said: "Our aim is to encourage people to drink responsibly and be mindful of the fact that excessive drinking can affect behaviour and lead to serious consequences. The message is simple - anti-social behaviour and violence will not be tolerated in Wrexham."
The One Newport Partnership also urged people to be responsible.
Gwent Police have increased the number of officers on the beat to reduce shoplifting and alcohol-fuelled disorder.
Paramedics, police, volunteers from Swansea University and other support staff are operating the Safer Swansea help point vehicle at Castle Square in the city.
Fiona Hughes for the Safer Swansea Partnership said: "Help point staff had noticed that many young women were removing their shoes and walking bare footed, making themselves vulnerable to injury.
"To address this, and for a nominal charge, flip flops are available to purchase at the vehicle, together with waterproof ponchos for those not dressed appropriately."