Review of 2012: Challenge from energy over cost and impact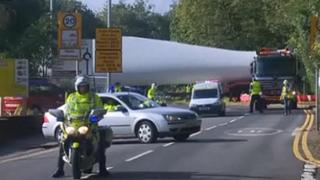 It has been a difficult year to avoid energy - not just paying for it but its wider impact by turbine, pylon or power station.
In many ways the fight against wind farms seems to have a new focus in some parts of Wales along with electricity pylons in Montgomeryshire, and now Anglesey and Gwynedd.
Campaigners like councillor Alun Mummery of Llanfairpwll would prefer the National Grid to follow a national plan for power lines, rather than consult differently in each region - and then opt for the cheapest route across Anglesey to link the future Wylfa B nuclear power plant and as yet unbuilt offshore wind farms to the grid.
Mr Mummery and many others would prefer underground or under sea cables - even if it would be £1bn more expensive.
"Looking at this nationally, where there have been similar problems, they seem to be following exactly the same course where you've got the local objections, obviously to pylons, and they seem to be disregarding this on the matter of cost," Mr Mummery said.
But according to Llywelyn Rhys, deputy director of Renewable UK, "quite a lot of the grid infrastructure needs upgrading".
He added: "But more importantly than that we need to make sure that a connection for cleaner sources of energy - low carbon energy - are available for the grid nationally. So we need to strengthen and modernise the grid."
Anglesey featured in the news in March as well.
Two German owned utility companies, RWE and E.on decided to sell Horizon Nuclear Power, the company they set up to develop a new nuclear power plant at Wylfa. That shock announcement surprised many, especially those who had campaigned for local jobs.
By October Japanese electronics giant Hitachi were willing to take the Wylfa project on. New pylons across the island may come partly because of Wylfa and wind farms in the Irish Sea.
Untapped energy
Fracking, the technique of hydraulic fracturing of underground rocks to release shale gas, made headlines this month.
The UK government supports reducing imports and possibly lowering energy bills - as has happened in the United States, and will give a green light to look for this as yet untapped energy sources deep underground.
But Pippa Bartolotti from the Wales Green Party sees fracking as a danger to renewable energy projects.
"One of the concerns every country has is energy security," she said.
"We import a lot of gas from Russia and from countries where you could say they were not politically very stable.
"It's good to have our own energy security and in Wales we can produce nearly three times more energy than we need from the sun, from the wind and from the tide."
Away from energy, there were disagreements over the price paid to farmers for their milk.
According to Carmarthenshire farmer Lyn Thomas in July, he had between six and eight months to decide if he intended to carry on as a dairy farmer as the price of milk fell to 22p-a-litre during the summer.
"It costs far more for me to produce the milk, than what I receive for it," he said. "It's come to the point that I have to decide if I can afford to carry on."
Demonstrations, blockades, threats and meetings eventually led to a voluntary code of agreeing a fairer price between farmers, processors and supermarkets.
'Very complicated'
Other issues cropping up were the first known case of the Schmallenberg livestock virus and multiple cases of the ash die back disease as ash trees are infected by the chalara fraxinea fungus.
The expectation is that we will hear far more of both diseases next year and a new organisation might have to deal with them.
Last month, Emyr Roberts the new chief executive of Natural Resources Wales started his job.
The former civil servant will be in charge of the merged Environment Agency, the Forestry Commission and the Countryside Council for Wales (CCW) which launches on 1 April next year.
His new environment service will have have a busy schedule and will be in charge of possibly conflicting policies of conserving landscapes as well as permitting potentially polluting power stations.
"Anything to do with the environment is very, very complicated and the Welsh government is bringing forward legislation to try and simplify this over the next few years, and I would be very keen for the new organisation to work with Welsh government on that," Mr Roberts said.
"It's too complex in my view at the moment, but it does actually crystallise the fact that we need one voice, we need to look at the evidence and bring forward our best possible policy on that."
Simplifying regulations may not wash with the European Commission though.
The civil service of the EU sent two Notice of Infringements on environmental impacts of liquefied natural gas tankers and the Pembroke gas power plant on the Cleddau Estuary earlier this year.
Since Friends of the Earth Cymru advised the Commission in 2010 of alleged violations of four environment laws concerning the power station's operational permit, the Commission has been investigating.
According to Gareth Clubb, the current chief of Friends of the Earth Cymru, it is a serious situation.
'Violations'
"I've never seen a letter from the European Commission that is quite so damning as this one," said Mr Clubb. "There's a series of very serious allegations.
"The UK government has transgressed at four different directives in 18 different violations and it's one that I think the UK government will struggle to defend itself against."
This story will continue in 2013 and will question the sustainability credentials of the Welsh government as well as the legal obligations of the UK government to protect a marine special area of conservation in Pembrokeshire.
Whatever happens to RWE npower's newly-opened £1bn gas fired plant, the CCW which advised politicians of the power station's likely impacts will disappear into the new environment quango. Convenient? You decide.