Carmarthen looks for busy Christmas weekend in takings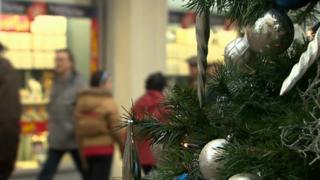 Shopkeepers across Wales are expecting this weekend to be their busiest time of the year so far.
The British Retail Consortium believes that shoppers are delaying their spending until the last few days before Christmas.
The latest official figures suggest spending has increased a little compared with last year.
But with prices rising more than incomes many people are expected to spend less this year.
Carmarthen is one of the oldest market towns in Wales, with a mix of chain stores and a large proportion of independent shops, and a market.
It seems that so far business has increased by 2.3% in the town compared with the same period last year and they are expecting 100,000 shoppers in the final weeks shopping before Christmas. For them, as others in the retail sector, good sales in December are vital.
Matt Davies runs a bar with live music and an independent record shop called the Tangled Parrot.
In recent years he has felt pressure from online retailers but this year he says he has been busy from September onwards.
He said: "More people are coming in. They are spending a similar amount per head but there is more of them.
"I think online shopping will carry on but people are remembering what is good about a physical shop and going back to them."
And that's the experience of the majority of shops in this town and it seems across Wales.
Shoppers are taking to the streets but they are careful with their cash.
John Nash, centre manager for the Merlins Walk area of Carmarthen, said people compared prices online before heading for the high street.
He said: "They are spending less than they did last year, we all know that, we can read it in the papers every day of the week.
"But people are determined to have a good Christmas still and they're still coming to spend now - maybe not buying as much - but selecting what they're going to buy very carefully."
Across the UK the latest official figures suggest spending is flat. Compared with last November the amount of goods bought sold last month rose only a little, just less than 1%.
Research into shopping plans in Wales by Cardiff-based Beaufort research suggests that one in three adults in Wales expects to spend less this Christmas.
With that background John and Iona Davies have a struggle on their hands. They grow their own vegetables and sell them in Carmarthen market.
They said the terrible weather in the summer and more recently was putting up the price of food just as shoppers tried to cut back.
He said: "Cauliflowers are very expensive at the moment, even to buy. The chap I usually get cauliflowers from, he's lost about 10 acres because of the wet weather.
"Carrots aren't too bad. Swedes, cabbage and parsnips aren't too bad. What it is, towards the end, is that people want everything fresh. So the next three days will be the busiest, I hope."
But the charity shops we find on our high streets seem to be doing well.
In Carmarthen the YMCA has taken over an old shop and is selling larger piece of furniture - tables and wardrobes - alongside the china and books.
'Unusual, vintage or retro'
Manager Eloise Denton said: "Everybody's scouting out for as many bargains as they can and that's what we want to aim for and achieve all the time, and hopefully give people a bargain.
"There's lot beautiful things and collectibles around now."
Maria Pearce and her husband are regular customers. They shop in charity shops partly because they think the money goes to a good cause and partly because they like to find a bargain.
She said: "It's sometimes to save money - you know you can find a good bargain - but also because we like to get something a little bit unusual and perhaps something that's a little bit vintage or retro."
Carmarthen may attract shoppers from a 60-mile radius but we will have to wait until next month to find out how much of that results in cash.