NHS obesity action plea by Royal College of Physicians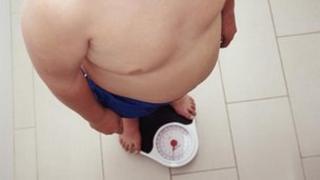 Health experts are calling for a review of specialist obesity services claiming there is "inadequate" provision in the NHS to treat overweight patients.
The Royal College of Physicians (RCP) say there are too few joined up services to help people lose weight in Wales and England.
It claims many NHS staff are seriously overweight and setting a bad example.
The Welsh government said it is committed to tackling obesity and helping NHS staff make healthy choices.
The RCP report comes after a prominent obesity doctor said in August that a lack of NHS resources in Wales meant thousands of people were missing out on essential surgery and community help.
Dr Nadim Haboubi, who runs a weight management clinic in Ebbw Vale, said Wales' obesity "epidemic" was so bad that it lags just behind world leader the USA and it is getting worse.
Meanwhile, a Welsh government-commissioned study by Swansea University calculated that obesity was costing the NHS in Wales £73m each year.
Now, the RCP report says even though the rate of obesity in the UK is among the highest in the world, the UK health service's response to the problem is "patchy".
The authors recommend a "systematic review" of specialist obesity services.
They said that multi-disciplinary teams made up of physicians, surgeons, nurses and other health professionals must be available to cover severe and complex obesity throughout the UK.
And there should be a lead physician for obesity at each hospital, they said.
They have also called for better training for NHS staff and more research into obesity.
The report goes on to say too many doctors and nurses are seriously overweight and setting a bad example to the people they are trying to treat.
'Britain getting bigger'
A spokesperson for the Welsh government said it is committed to tackling obesity through the all Wales obesity pathway and will be considering the findings of the report.
He said the all-Wales obesity pathway sets out a four tiered approach for the prevention and treatment of obesity, from community based intervention to specialist medical and surgical services.
"It is vital to encourage and support individuals to make healthier lifestyle choices, including having a healthier diet and being more physically active," said the spokesperson.
The Welsh government has set up the Change4Life Wales programme to support people's healthy lifestyle choices.
And it is also trying to find 1,000 NHS staff to lead by example with a Champions for Health scheme.
RCP academic vice-president Prof John Wass said: "Britain is getting bigger and whilst we try to prevent the increase in obesity, we must also prepare the NHS for the influx of patients presenting with severe complex obesity.
"A patient may arrive at my hospital with coronary heart disease, but if the root cause of their condition is obesity, we must be equipped to deal with that root cause."
A Department of Health spokesperson said: "The NHS has a range of programmes in place to encourage weight loss. Surgery should only be considered as a last resort and decisions must be clinically-led."