Church in Wales review group includes marketing and business experts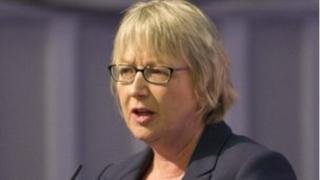 A business consultant and PR and marketing experts have been included in a group to look at radical shake-up plans for the Church in Wales.
The five - all church-goers - will look at recommendations made after an independent review last year.
Group chair Helen Biggin said it was an exciting time for the Church in Wales.
Ideas being looked at include parishes run by vicars and lay people and holding non-traditional services on days other than Sunday.
The group includes Nigel King, who has a background in market research, advertising and marketing.
Mr King, who is also a member of the church governing body, is said to be particularly interested in new business development, and problem solving and idea generation techniques.
He is joined by businessman James Turner, who has experience in change management, audit, investment management and corporate governance.
Mr Turner is a church governing body member, has chaired the St Asaph diocesan finance board since 2005 and succeeded Lord Rowe-Beddoe as chair of the Representative Body earlier this month.
There was a mixed reaction to some plans when the 50 recommendations were announced last July.
Some controversial issues were covered, including closing or adapting surplus church buildings in Wales.
The study by three leading Anglicans had also highlighted "very low morale" in some parishes.
Announcing membership of the group to reviews the recommendations, the Church in Wales said it wanted to ensure it was "fit for purpose as it faced its centenary in 2020".
Group chair Helen Biggin said: "The review group has made some radical and challenging recommendations, which offer great opportunities."
Mrs Biggin, who is director of the Welsh NHS Confederation and has a public relations and journalism background, said she was looking forward to the challenges ahead to enable the church to thrive as it serves communities in Wales.
The others in the group are the Bishop of Bangor, the Rt Rev Andrew John, andRev Paul Mackness, who is based in Pembrokeshire.
The group was appointed to, and will report to, the governing body of the church.
The first report goes before the governing body's standing committee next month.
"We are fortunate to have a group of talented and insightful people who between them bring a wide range of experiences and ability to the task ahead," said the chairman of the standing committee, Judge Philip Price.
He acknowledged that the task ahead would be a "challenge" but will "hopefully bring exciting changes".