BBC proposes mediation for Radio Cymru music row talks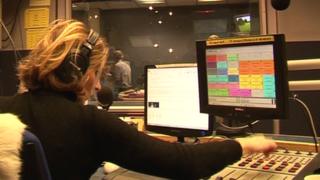 A mediator could be brought in to try to resolve the row between the BBC and Welsh language musicians over their royalties.
BBC Cymru Wales said Eos - the body representing the musicians - had agreed to consider its offer to bring in a jointly-appointed independent expert.
Eos said it would need to consult its members, which could take a month.
Artists want more money for their music and the row led to Radio Cymru losing the rights to about 30,000 songs.
The musicians broke away from the Performing Right Society (PRS) to join the new agency Eos, claiming they were being short-changed for their work.
However, the BBC maintains that it has an obligation to ensure value for money for Mediator plan for music row talkslicence fee payers, and a fair and reasonable resolution was needed.
Negotiations between the two parties have so far not brought an agreement.
Further talks took place on Friday and Eos said a proposal it made to the BBC at a meeting on Tuesday had been rejected.
'Fair to everyone'
But the BBC said it was pleased Eos had agreed to consider its offer to fund a process of independent mediation.
"This would see an independent expert jointly appointed by both parties to look at the important and complex issues surrounding the value of the Welsh language music repertoire, " BBC Cymru Wales said in a statement.
"We look forward to hearing from Eos as soon as possible so that we can work together to bring this difficult and damaging dispute to an end.
"Our aim remains to come to an agreement that is fair to everybody."
Dafydd Roberts from Eos said the agency would have to consult its members about the offer of mediation.
He said this could involve calling a general meeting which would take about a month.
He also said talks were stalling because the BBC was not willing to divert from its existing arrangement of paying a blanket fee to PRS for music.
Elan Closs Stephens, BBC national trustee for Wales, said: "I hope very much for the audience's sake that the announcement that Eos is now considering the BBC's offer of independent mediation in an attempt to reach resolution means that there is some hope that the issue can be resolved as soon as possible."
Classical music
Following Tuesday's meeting, Rhodri Talfan Davies, the director of BBC Cymru Wales, said the two sides were getting closer.
But he added it was a complicated dispute, and he was not willing to give a timetable for a resolution.
Radio Cymru reaches about 142,000 listeners a week, or 6% of the adult population of Wales, according to the latest Rajar audience survey.
After the BBC lost its rights to the Welsh language songs on New Year's Day, classical music and hymns have replaced rock and pop on Radio Cymru.
The station has also been forced to cut its airtime by two hours a day.