Tenovus: tracing cancer charity founders' relatives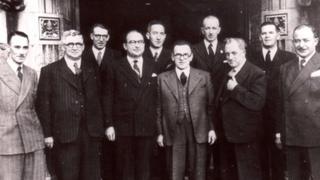 They have been credited with helping bring about two of the major health discoveries in modern medicine.
The 10 men who founded the Tenovus charity in south Wales raised money to help scientists discover Tamoxifen, the drug used worldwide to treat breast cancer.
They also funded research that led to expectant mothers being advised to take folic acid to prevent spina bifida in babies.
But despite helping people all over the world, little is known about the men who set up the charity 70 years ago.
Now, as Tenovus celebrates its milestone anniversary, it is hoping to trace their relatives to try to find out more about the men who made such a difference.
Tenovus is now one of the leading cancer charities in Wales, helping patients with care, treatment, support and research.
But it was started by businessmen in Cardiff who simply wanted to help a friend in need.
In 1943 haulier Eddie Price was seriously injured in an industrial accident when a large machine fell on him and for three months he lay in Cardiff Royal Infirmary.
He was visited regularly by eight friends - all businessmen - who he used to regularly dine with at the Angel Hotel in Cardiff.
They were joined by a Mr D R Edwards - the head of Prudential Insurance - who had traced Mr Price to thank him for the good deed he had done in giving him petrol for his car after he broke down.
Together the men were determined to find a distraction for their injured and bored friend.
They eventually bought a radio for the hospital and invented headsets for the patients to listen to it.
They even managed to broadcast Cardiff City football games from Ninian Park to the hospital.
It was an act of benevolence that sparked a lifetime of philanthropy for the men who decided to continue their fundraising under the name Tenovus - Ten of Us.
Gronw ap Islwyn, the prospect, research and legacy officer for Tenovus, said that, together with a recovered Mr Price, the men initially raised money to help communities in Cardiff.
"A band of gentlemen was formed, they didn't set out to set up a charity," he said.
"But between them they had contacts and they used them. They would be told about people that needed help and they would raise money for them.
"For example, in that period they bought a washing machine for a widow with seven children who had lost an arm.
"It was word of mouth initially and a bit ad hoc but towards the end of World War II they were asked to raise £26,000 for a rest home for injured soldiers in Burma who could not return home.
"The first Tuesday of the month was the night for their meeting and dinner at the Angel Hotel in Cardiff. It was a dickie bow affair.
"They would summon the great and good of Cardiff to the dinner and the minutes from the meeting show that they could have £10k put on the table."
Flying doctors
Mr ap Islwyn said the friends realised they could really make a difference because of the large sums of money they could raise and they went on to fund big projects such as the Sunshine Home for blind babies in Southerndown in the Vale of Glamorgan.
They staged big balls and organised rugby matches to raise money for "all sorts of research" across the UK, and even further afield, including helping flying doctors in Africa.
They also did a lot of work to help find ways to prevent spina bifida in the late 1950s and early 60s.
"It was a major health issue back then and south Wales was a hot spot," Mr ap Islwyn said.
"They raised £11,000 in six months for a special unit for Cardiff Royal Infirmary that opened in 1967 and it was the first of its kind in the world.
"At that point Tenovus was associated in a big way with spina bifida and research funded by Tenovus was one of the first to identify the use of folic acid in pregnancy as a way to prevent it."
It wasn't until the 1960s that the Tenovus founders started to focus on cancer, which they realised was becoming one of the biggest post-war killers.
They funded medical research and facilities across the UK and Ireland, including at numerous hospitals.
Mr ap Islwyn said they established a cancer information centre in 1962 which provided smoking cessation sessions in schools across south Wales and the charity also funded the first mobile cervical cancer screening vehicle and freephone support line.
On 14 April 1967, the founders launched the Tenovus Institute for Cancer Research at the University Hospital of Wales in Cardiff, which was opened by Princess Margaret.
'Saving lives'
Dr Ian Lewis, associate director of research at Tenovus, said the founders were "very much driven by what was needed at the time".
"Cancer research was lacking particularly in Wales at the time," he said.
"They helped fund research that helped develop Tamoxifen as a drug to treat breast cancer.
"At the time a pharmaceutical company was working on developing a new contraceptive pill, however it didn't test very well and was dropped.
"However the chap behind it thought it might work with breast cancer because it blocked oestrogen, which causes the majority of breast cancers to grow.
"He got in touch with Tenovus and they helped him. It was really ground breaking and was approved for use in breast cancer in the UK in 1973.
"Since then, if you add up all of the women who have taken Tamoxifen, it has helped save millions of lives and is continuing to do so."
He said the research institute was also at the forefront of research into cancer and the charity now funds PHD students from Welsh universities to ensure the knowledge base in the country continues to grow.
Although the Tenovus founders are all now dead, the work they inspired continues with equal passion and determination.
But those who have taken on their legacy are keen to know more about the men who changed the lives of so many.
"There are many, many gaps in our knowledge about the ten founders and we would appreciate having those gaps filled by any relatives of the men who can give us a greater picture," said Mr ap Islwyn.
"But what we do know is that this is a charity that has made innumerable contributions to so many, particularly in the field of health."