CPS Wales may shut smaller offices in spending review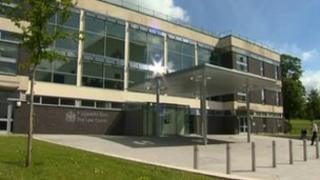 The Crown Prosecution Service (CPS) is considering closing some of its offices in favour of regional "hubs" covering Wales.
The organisation confirms there will be no compulsory redundancies planned among the 350 staff who work in Wales as part of the spending review.
A spokesperson said it was reviewing its options with staff and trade unions.
It is not known when a final decision will be made.
There are currently eight regional CPS offices in Wales - in Cardiff, Merthyr Tydfil, Swansea, Cwmbran, Carmarthen, Newtown, Colwyn Bay and Wrexham.
The current draft proposal for Wales envisages retaining one "hub" office location covering north and mid Wales by January 2014.
The location of this office is yet to be decided.
Further hub offices would be used to cover south west and south east Wales.
'Centralised'
The CPS in Wales prosecuted 50,108 cases in the magistrates' courts and 5,681 cases at crown court in 20011/2012, according to its website.
"It is no secret that the on-going public spending review means that the CPS, like other government departments, has to examine ways in which we can make efficiency savings," said Mike Grist, CPS Wales area business manager.
"It is highly likely this review will result in us having a smaller number of offices in the future, with some of our staff moving to larger, more centralised units."
He said communities throughout Wales could be assured that "commitment to improving the service we provide to them will not be affected in anyway".
"I would stress however, that no final decisions have yet been made in terms of the number or location of offices we might have in Wales in the future."