Wales weather: Flooding in Pembrokeshire and Carmarthenshire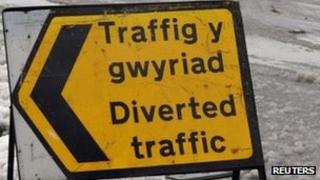 Flooding is causing major disruption in south west Wales with fire and police crews "inundated" with incidents.
Places affected include Whitland in Carmarthenshire and Narberth, Haverfordwest and St Davids in Pembrokeshire.
Dyfed-Powys Police said it had received dozens of calls, including of roads becoming impassable due to flash floods and of a stranded driver.
There are also reports of homes being flooded in south east Wales.
South Wales Fire and Rescue Service said it had received a handful of calls to Merthyr, Bridgend, Pontypool and Tredegar.
Environment Agency Wales says there are flood warnings and flood alerts in place in Wales.
Earlier on Friday, snow had caused problems for traffic during the evening rush hour in north east Wales.
Mid and West Wales Fire and Rescue Service began receiving calls about flash flooding at about 19:00 GMT, and local councils were asked to assist with sandbags and unblocking drains.
Narberth has been particularly badly hit with fire crews reported to be battling flooding in the high street and the Narberth bridge area.
Police said they had received calls about driving conditions across Pembrokeshire and Carmarthenshire following sustained heavy rain.
A number of roads, including the A40 between Llandeilo and Llandovery, were blocked or had delays as drivers tried to negotiate flooded lanes.
One driver was reported as being stuck in his car on the A477 near Red Roses.
A spokesman said: "At the more serious ones, where there is a danger to road users, we would put a police car there with blue flashing lights on to warn people about the hazard."
Pembrokeshire councillor Wynne Evans, of Narberth, said: "It's similar to the problem we had in August and it's all over town.
"It's mainly in the lower part of Narberth in the Narberth bridge area. The bridge is open but only one lane is open. It's the main road between Narberth and Tenby."
He said the police station had been flooded and there were problems in the high street.
He was not aware of any homes being hit yet, adding that many had taken extra precautions after flooding in the summer.
In north Wales, snow was the problem causing hazardous driving conditions during the Friday rush hour in Gwynedd, Conwy and Denbighshire.
Rain warnings
The A470 Crimea Pass between Blaenau Ffestiniog and Dolwyddelan was said to be impassable with cars turning back.
Snow and rain warnings are in force from the Met Office.
Friday's weather had caused few problems until late afternoon when snow began falling in parts of country.
The Crimea Pass was said to be blocked by snow with reports of many vehicles running into problems.
In Denbighshire, the A5104 Bryneglwys mountain road was closed in both directions due to snow between the A542 (Llandegla) and B5436 (Bryneglwys).
In Powys, there were hazardous driving conditions due to snow on the A4059 Penderyn mountain road between the A470 (Nant-ddu) and Lamb Road (Penderyn).
The snow warning is in place for eastern Wales, although it appeared to be also causing problems in the north west.
Severe flooding
Rain became more of an issue in the south, with floodwater affecting south west Wales.
Environment Agency Wales said the rain "could lead to the possibility of excess water on road surfaces on Friday and flooding from blocked drains and small streams".
"River levels could rise and flood alerts may be issued but the likelihood of flooding from larger rivers is low," said the agency.
"Care should be taken as driving conditions may be hazardous."
A thaw could be on the way over the weekend as wet and windy weather takes hold, including possible strong to gale force winds.
This could bring a risk of localised flooding.
The enhanced content on this page requires Javascript and Flash Player 9
Map Key
Land
Cloud
Lakes, Rivers & Sea
Fog
Light
Heavy
Frost
Light
Heavy
Pressure Fronts
Cold
Warm
Occluded
Rain
Light
Heavy
Extreme
Snow
Light
Heavy
Temperature tab only
Temperature (°C)
More details from BBC Weather