Cardiff Airport: Bristol backs Wales Euro 2020 bid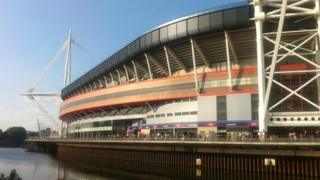 Bristol Airport has thrown its weight behind Wales' bid to land a Euro 2020 game at Cardiff's Millennium Stadium.
Footballing body Uefa says venue cities must have two airports nearby to ensure rival fans are kept apart.
But while Cardiff has only one, Bristol Airport is about 50 miles (80km) from the Welsh capital and says it is already used as a gateway for Wales.
The Football Association of Wales (FAW) is set to bid against places including Rome, Berlin, Istanbul and Madrid.
A spokesman for Bristol Airport said: "We would welcome the opportunity to work with the FAW and other bodies involved in the bid process."
Civic and airport officials have come out in support of Cardiff as a suitable city to host a Euro 2020 game, despite Uefa's two-airport rule.
The Welsh government is currently negotiating to buy Wales' only international airport from its owners, in a move that one South West England MEP has claimed could threaten Bristol Airport.
But a spokesman for Bristol Airport said it should already be seen as a second airport for people going in and out of Wales.
He said: "Bristol Airport already serves as an additional gateway for thousands of overseas visitors to events in Wales, including rugby matches at the Millennium Stadium, every year.
He said the airport would be willing to provide "any information required" for Cardiff to meet Uefa's criteria regarding airport access for Euro 2020 fixtures.
Global audience
Cardiff council's cabinet member for sport, leisure and culture, Huw Thomas, said that as well as being served by Bristol Airport, Cardiff was also only two hours by train from London.
He said: "Over the last decade, Cardiff has played host to numerous leading sporting events that have been watched by a global audience of billions.
"Successfully delivering events such as FA Cup finals, Olympic football games, the Rugby World Cup and Ashes cricket have earned the city an unparalleled reputation for sporting events.
"The Millennium Stadium, with its capacity to close its roof, is acknowledged as one of the premier sporting venues, not just in Europe but the world and Cardiff also boasts great hotels and an infrastructure that has made it very popular with sports fans who have attended matches here."
A spokeswoman for Cardiff Airport said: "Details of how Cardiff Airport will manage the 2020 matches have been submitted based on previous experience, operational ability and capacity.
"Cardiff Airport has extensive experience in handling large special events over many years, for example the Ryder Cup, Six Nations, Heineken Cup and the Rugby World Cup, with a proven track record in the planning, preparation and management this type of large volume traffic, the passengers, their welfare, safety and security.
"The airport offers a professional and bespoke service to the teams, organisers and supporters having sufficient capacity for aircraft parking, coaching and an efficient passenger flow."