Betsi Cadwaladr: Conwy defers NHS no confidence vote for talks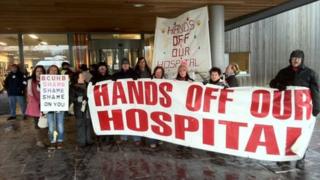 A motion of no confidence in NHS managers in north Wales has been deferred by councillors after both sides agreed to hold talks.
It follows Betsi Cadwaladr University Health Board's decision to close four community hospitals and transfer care for seriously ill babies to England.
The motion was proposed by three Colwyn Bay councillors from different parties.
The BCUHB said it must overhaul services to meet challenges due to financial pressures.
It announced the changes earlier this month.
The no confidence motion was due to be put to Conwy council by Cheryl Carlisle (Conservative), Brian Cossey (Lib Dem) and Phil Edwards (Plaid Cymru).
Council leader Dilwyn Roberts told the meeting: "This motion has made people sit up and listen. The phone has been red hot since it was published.
"The Betsi Cadwaladr University Health Board has agreed to meet with us urgently.
"I hope this will be a constructive way forward, not just for us but for the whole of north Wales."
The deferred motion invited other north Wales councils to do the same and called upon the watchdog body the Community Health Council (CHC) to use its power to refer the health board's decisions to the Welsh government.
A cross-party group of Assembly Members, including a Labour AM, have also called for Health Minister Lesley Griffiths to intervene.
Discussing the issue of NHS reform on BBC Radio Wales, Dame June Clark, emeritus professor of community nursing, said change had generally been resisted for "years and years and years".
She added: "I do think that this time the combined effects of the increase in demand because of the ageing population and the financial problems coming together as they have, mean that change is not only necessary, it's inevitable and we have to face that and learn to live with it."
However, Prestatyn GP Dr Eamonn Jessop said: "What I would have liked to have seen was some long-term structure to look at how we can rehabilitate patients, get them moved into the community quicker, rather than just saying, 'oh well there are these four relatively small community hospitals... we'll take those out, that'll save us a few quid and that'll make things a lot better'."
He added: "When you look at that and the way that they're going to roll out enhanced care service it's hard to see how any money will be saved."
Monday's council meeting will also hear calls for the UK government to improve the rail network in north Wales.