Richard Parks flies out of Antarctica as challenge ends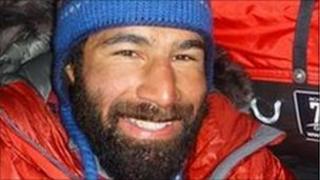 Former Wales rugby player-turned adventurer Richard Parks has been flown out of Antarctica after being forced to quit his latest challenge.
Parks was aiming to ski solo from the coastline of Antarctica to the Geographic South Pole, but says he ran out of time.
He said "horrific weather conditions" had "absolutely battered" him and "safety is non-negotiable".
His team said he had arrived in Chile and would be returning to the UK.
A team tweet on Saturday said: "He arrived in Chile late last night & will be responding to msgs & will blog when he wakes. Thank you for your support. Team Parks."
Parks, a former Wales and Dragons forward, said he could have been successful had it not been for a string of bad luck, including lost luggage and severe conditions.
He wrote: "I could have been having a beer celebrating possibly the 2nd fastest solo coast to pole expedition of all time and a new British record".
He abandoned the 745 mile (1,199 km) trip about 605 miles (973 km) in.
He wrote in his blog how he had been pushing hard to make up lost time: "I was working so hard and I took my facemask off to get more breath in as it clogged up and I have cold damage to my nose now.
"In an environment as unforgiving is this, in my opinion, safety is non-negotiable."
'The right decision'
He added: "I have been starving myself close to 40 days now, that is the nature of it as you can't consume more calories than you burn, it's the fine line you run but I am skin and bones over here.
"I am the weakest and lightest I have ever been. The last week has really battered me basically."
Describing his condition, he said: "My mouth is full of ulcers... my body is run down to a point where I have not been before".
He said his "first cold injury as result of mental and physical fatigue is an alarm bell that I am not going to ignore.
"I physically and safely cannot cover 200km in three days. I simply have run out of time."
While "gutted", he was "at peace because I know I have done everything I can in my control and it is the right decision".
In 2011, Parks achieved his world-record-breaking dream to reach seven summits and three poles in seven months in the 737 Challenge, aiming to raise £1m for Marie Curie Cancer.