Self-harm: ChildLine reports calls relating to five-year-olds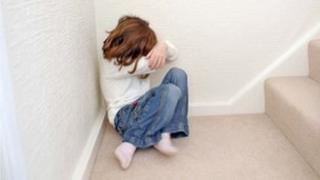 Charity ChildLine has taken calls about self-harm relating to children as young as five, its manager in Wales says.
While self-harming is most prevalent among older teenage girls, there are fears it also affects younger children.
But new figures commissioned by BBC Wales show a rise in the number of 10 to 14-year-old girls continuing to self-harm.
The Welsh government said it was investing millions in mental health and counselling services for young people.
Ann Pulling, ChildLine services manager for Wales, said there was growing pressure on young people to look and act a certain way.
"The majority of those who ring us are aged between 13 and 17 but we've had some as young as five - siblings or parents may make contact with us," she said.
"It's not just girls but boys who find it hard to talk about it as there's a rise of 30% in the number of boys who contact us about self-harm."
Reasons for self-harming are complex and personal and can be linked to bullying, abuse, or problems at home or school.
Recent research from King's College London suggested children bullied during their early years are up to three times more likely to self-harm than their classmates when they reach adolescence.
It found that half of 12-year-olds who harm themselves were frequently bullied.
Ms Pulling said the issue of bullying was being made worse by technology.
"For girls, there's that pressure that comes from boyfriends sometimes to engage in sexual activity or maybe they would be pressured to send an explicit photo and then regret it," she said.
She said pressure on young people "can come from their peers and it can come from families who expect them to do well".
"Bullying never stops now. With social media, it doesn't stop at the school gate any more," she said.
She said it was "quite a step" for children under pressure to turn to self-harm.
"But I think that children become so unhappy and frightened that they can deal with the physical pain more than the emotional pain. They tend to turn that in and harm themselves."
New figures commissioned by BBC Wales and produced by Public Health Wales Observatory shed some light on the more serious end of the problem.
Children counselled
The figures, which look at three-year periods, suggest the biggest percentage increase in self-harming resulting in hospital admission since 1999-2001 is among younger girls, aged 10 to 14.
The increase is from about 100 admissions per 100,000 to around 200 for 2009-11.
There is some better news though as the figures suggest falls in admissions, for both girls and boys, across a variety of age groups, since 2006-08.
However, there is only a tiny reduction among girls aged 10 to 14.
ChildLine released figures in December which showed the number of children counselled in Wales who were self-harming increased from 809 in 2010-11 to 1,214 the following year.
Ms Pulling said the jump in calls was probably down to more awareness of the service than an increase in children self-harming.
Dr Ann John, an expert on self-harm and suicide prevention with Public Health Wales, said there tended to be a problem among young girls but added a long-term study in Australia offered hope.
"It showed there is a peak among girls in their mid and late teens at the time when there's a lot of turmoil going on in their lives - family issues, issues at school," she said.
"As these children went into adulthood, about 90% would not continue to self-harm."
She said there was now more help available and it was positive more were taking advantage of that.
'Complex issue'
"There are things like parenting programmes, mental health first aid, and helping people talk and engage on these issues," she said.
Chris Leaman, from YoungMinds, a charity which works to improve the emotional wellbeing and mental health of children and young people said there was an "almost epidemic" of self-harm among children in some parts of the UK.
"Society places an incredible amount of pressure on young people and sometimes we don't recognise what we're actually doing to young people's lives," he said.
The Welsh government said it was determined to ensure "children and young people with emotional and mental health needs receive the best care and support possible".
"Since 2008, we have invested an extra £6.9m in children and adolescent mental health services and allocated £8m to develop a school-based counselling service," a spokesman said.
"In addition, £4.5m will be provided annually from 2012-13 for accessible counselling services for pupils of secondary school age, year six primary school pupils and 16-18 year olds.