Media Wales cuts 16 jobs and four to go at Daily Post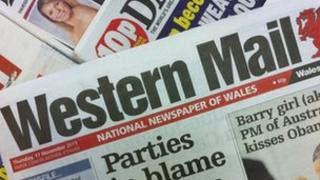 Sixteen jobs are under threat at a Cardiff-based newspaper group as its publisher plans more content sharing across its local and national titles.
Media Wales publishes the Western Mail, South Wales Echo and Wales on Sunday as well as the Celtic local newspapers.
Its publisher Trinity Mirror will axe a total of 92 jobs, but create 52 across Wales and England.
Four jobs will go from Trinity Mirror's Daily Post in Llandudno Junction, which covers north Wales.
A new publishing model is to be unveiled in what the company is calling an "integrated approach to creating and sharing first-class content across the group".
The National Union of Journalists (NUJ) has held an emergency meeting at Media Wales.
Media Wales' chief reporter Martin Shipton, who is also the local NUJ representative, said the changes would threaten to remove much of the papers' Welsh content in favour of more generic features.
Trinity Mirror editorial director Neil Benson said: "Our newsrooms have made great progress in embracing the digital world in recent years but, essentially, our processes have remained print-led.
"This new approach is a bold, imaginative step that will enable us to become a fully-fledged, digitally-focused news operation, and brings together for the first time the best of our regional and national journalism.
"It is never easy to make these decisions when it affects our colleagues in this way but we must re-engineer the way we work if our journalism is to thrive in the future."
Media Wales cut 36 jobs across its titles in 2011.