May Lewis death: carer Carole Conway 'assumed' lift was there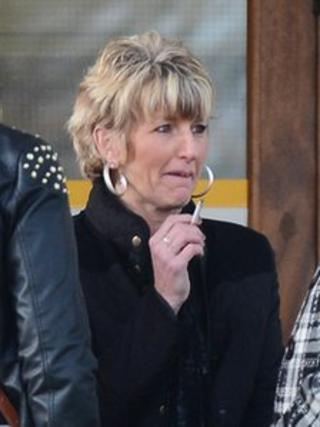 A Cardiff inquest has heard how a 96-year-old woman died when her wheelchair was pushed into an open care home lift shaft, breaking 52 bones in the fall.
May Lewis fell 20ft (six metres) and was killed instantly, just five days after moving into Pontcanna House.
The carer, who did not notice the lift had not arrived at the top floor when the door opened, survived the fall.
The ongoing inquest heard staff regularly used an over-ride key for the malfunctioning lift.
Carole Conway - who has been a carer for 19 years - described how she reversed the wheelchair through the lift doors.
"I did not look inside before I stepped in, I just assumed it was there," she said.
"The lift was playing up - we always had problems with it.
"I just remember being on the floor with the wheelchair on top of me."
Ms Lewis suffered 52 fractures to her ribcage, internal bleeding and fractures to her spine, skull and pelvis, and died at the scene on 6 March, 2012.
Kerry Hill, a supervisor at the care home in the Llandaff area of Cardiff, said: "I heard a shout and I thought someone had fallen over.
"I can still picture May's face. I thought we had lost Carole too.
"I hate lifts. I would never go in there on my own."
The inquest heard staff routinely used an emergency key to access the lift when mechanical failures prevented the door from opening automatically.
However, staff had been warned that using the key could be dangerous.
Deputy care manager Brenda Norman said: "The lift did malfunction.
"Once we had to call the fire brigade because a resident and a carer got stuck between floors.
"After the incident a key was made available to staff members to free anyone trapped at ground-floor level in an emergency.
"I did not know the key was being used on a routine basis. If management had known, we would not have let it carry on."
Ms Lewis' daughter, Brenda Jones, told the inquest: "When I last saw my mother, she was enjoying a sing-along at the home.
"She was tapping a tambourine and smiling. I had no qualms about the quality of her care."
However, she received a call from the home five days later.
She said: "I could tell something serious had happened - I knew instinctively my mum was dead."
Sven Hillman, a production specialist for Sweden-based Cibes, which built the lift, said the only fault found after Ms Lewis's death was a problem with the locking mechanism on the upper level.
Mr Hillman told the inquest the door on the second floor needed a new lock, adding that the lift should have been "turned off and locked up" until that was fitted.
The inquest continues.