South Wales incinerator: Viridor Cardiff site chosen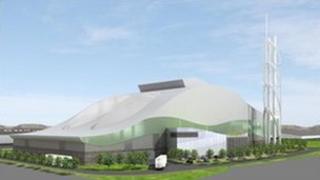 A firm has been chosen as the preferred bidder to burn household and commercial waste from across south Wales at an incinerator it is building in Cardiff.
Five local councils have formed the Prosiect Gwyrdd partnership to oversee the project to handle their refuse.
Waste and recycling company Viridor has been chosen, although residents opposed to its incinerator in Cardiff have vowed to continue their protests.
Rival firm Veolia had wanted to build an incinerator in Newport.
Howard Ellard, Viridor's business development director, said they were delighted to have won.
"Subject to the decisions of the partnership councils, we look forward to working with Prosiect Gwyrdd to finalise the necessary details to allow commencement of this essential service for the project partners and their residents."
The Prosiect Gwyrdd partnership consists of the Vale of Glamorgan, Caerphilly, Monmouthshire, Newport and Cardiff.
Veolia Environmental Services was the other firm fighting to run the incinerator, and whose spokesperson said it believed it was "sympathetic with the local environment and represented a unique opportunity to use the residual waste to provide a secure source of sustainable energy and heat to the neighbouring Tata Steel steelworks - a major source of employment in the area".
Preferred bidder status will have to be recommended by the partnership's joint committee next week and approved by each of the councils before it is confirmed.
Neil Rogers, Welsh Local Government Association spokesperson on the environment, called it "an important announcement which signals that significant progress is being made in a key area of Wales' overall strategy for dealing with household waste.
"While the long term aim is to create a zero waste Wales which is characterised by a more sustainable level of consumerism and use of natural materials, in the medium term we need facilities such as those being developed by Prosiect Gwyrdd to deal with the residual waste that we all help to generate in Wales."
While Viridor started building its energy-from-waste plant in Trident Park in Cardiff last March, Veolia's planning application for a site near the Llanwern steelworks, close to Newport, was turned down last July, and its appeal will be heard next July.
The shell of Viridor's plant is already taking shape with planning permission given by Cardiff council in 2010, and the Environment Agency awarding an operational permit after consultation.
However, protest groups have sprung up in both cities.
Stop Newport & Monmouthshire Incinerator Campaign (SNIC) is now waiting for an inquiry into Velioa's appeal.
Cardiff Against the Incinerator group chairman Robert Griffiths said a High Court order was being looked at to try to stop the incinerator being built near Splott in Cardiff.
"We have already put great pressure, with some success, on Cardiff council to reconsider the whole question of enforcing the planning consent conditions," he said.
In a statement to BBC Wales, responding to allegations of breaking planning conditions while building its new plant, Viridor said it had been "invited to stop" construction on its Trident Park site after apparently beginning work without meeting the "pre-implementation conditions" attached to its planning permission.
At the time, Cardiff council said it had warned the developer that it would take "robust enforcement action" if the issue was not resolved, but when the use of enforcement action was put before the planning committee, members voted to defer a decision on such action until it had more information.
That council planning meeting is scheduled to discuss these concerns next month.