Trinity Mirror job cuts: Newspapers could go says union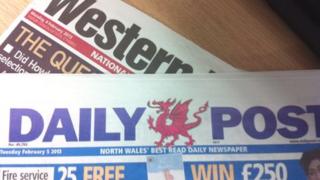 A union says 11 jobs are at risk at Trinity Mirror newspapers in north Wales and Liverpool, and claims the existence of some is under threat.
The changes affect titles such as the Daily Post and weekly papers.
The National Union of Journalists (NUJ) said the changes would threaten to remove much of the papers' Welsh content.
Trinity Mirror said the changes were necessary to ensure the papers' future, and jobs were also being created.
It emerged last week that four jobs would go from Trinity Mirror's Daily Post, which covers north Wales, and the NUJ has now claimed that 11 positions are under threat in both north Wales and iverpool.
Elgan Hearn, from the NUJ in north Wales, said the announcement was a "slap in the face to already overstretched news teams in the region".
He said staff had coped with new working practices, shifts and the demands of a digital project and the job cuts were a "stab in the back".
"Here in our part of the company we feel shafted by bosses in Liverpool who are moving jobs down the A55 to Liverpool, to beef up a flagging Liverpool Echo."
The union said a proposed "shared content unit" to produce lifestyle features in Liverpool would not have features tailored to suit readers in Wales.
'Proud history'
"Many of our titles have a proud history going back over 150 years," said Mr Hearn.
"They have weathered the invention of the radio, and television, but our management seem to believe that surviving the internet age, and learning to live and use it to our benefit is not possible.
"The stark reality is that in the near future, the way things are going, we might not exist at all."
Last week it was announced 16 jobs are to go at Cardiff-based Media Wales newspaper group as Trinity Mirror said it will axe a total of 92 jobs, but create 52 across Wales and England.
In a statement Trinity Mirror said it hoped to achieve any redundancies by voluntary means whilst other staff will be redeployed, where possible, to newly-created roles under the new publishing operation.
"These new editorial positions include digital roles in some regional newsrooms to support the rapid expansion of Trinity Mirror's digital ambitions, including the rollout of e-editions.
"A shared content unit team is also being established to produce high-quality, non-local material covering areas such as health, travel, fashion, food, entertainment and reviews."