Wales weather: Ice warning lifted after snow returns on high ground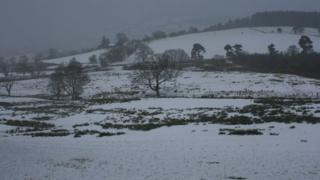 A yellow warning urging everyone to be aware of icy conditions has been lifted across Wales.
Forecasters say a few centimetres of snow fell overnight over high ground, with up to 3in (7cm) in the Welshpool area of Powys early on Tuesday.
Dyfed-Powys Police said the snow and ice made driving conditions treacherous during the morning.
There is a covering of snow across north Wales, with a couple of inches reported on higher ground.
More heavy showers of hail, sleet and snow are expected, with gales in exposed areas.
Last month days of heavy snowfall caused widespread disruption across the country, closing thousands of schools on some says and bring power cuts for more than 1,000 households.
A Met Office yellow warning for ice will remained until 11:00 GMT Tuesday for most of Wales, apart from the south west and extreme north west. It has now been lifted.
Forecasters also say there will be some bright spells in between the showers early on, but by Tuesday afternoon it will be much cloudier and there will be further showers.
On Tuesday night further spells of rain or sleet are likely with the potential for more snowfall on higher ground.
It will continue very windy with gales or severe gales for exposed areas.
The enhanced content on this page requires Javascript and Flash Player 9
Map Key
Land
Cloud
Lakes, Rivers & Sea
Fog
Light
Heavy
Frost
Light
Heavy
Pressure Fronts
Cold
Warm
Occluded
Rain
Light
Heavy
Extreme
Snow
Light
Heavy
Temperature tab only
Temperature (°C)
More details from BBC Weather