Crossrail: Chairman Terry Morgan on roots and tunnels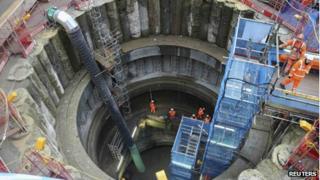 Terry Morgan has come a long way in his career. He started his working life as an apprentice at the Lucas Girling car parts factory in Cwmbran.
He now runs Europe's biggest civil engineering project as chairman of Crossrail, which is an east-west link currently being built beneath central London.
I asked Terry Morgan how he had managed to climb from an engineering apprenticeship in south Wales as a young man to his current role: "I find that a very difficult question to answer. There is some luck.
"I think I work hard. I think I'm enthusiastic about what I'm trying to do and I like to think I try to make a difference, it's as simple as that.
"I don't profess to be something special."
When Crossrail is finished in five years it will be particularly relevant for rail passengers arriving in London from south Wales as there will be a platform at Paddington.
It means dramatic reductions in journey times across London with times of nine minutes between Paddington and the financial centre in the City of London and 16 minutes to Canary Wharf.
I went to the base of one of the project's biggest holes in east London, which is 45 metres deep.
From there, two tunnel boring machines will spend the next three months heading in the direction of Canary Wharf at a rate of around 100m a week.
The machines, each costing £10m, will then move further west until they eventually meet machines coming from the other direction.
The scale of the project is immense. All the earth being dug out is being put on barges to create a bird sanctuary on the Thames Estuary. The current workforce of 7,000 is about to double by next year.
Abertillery-born Mr Morgan, 64, is in charge of spending £120m a month. His overall budget is £15bn, which is about the same as the Welsh government's annual budget.
Another big part of his job is selling Crossrail across the UK, including to his Welsh homeland, as it marks yet another major infrastructure for London and the south east of England.
About a third of the funding is coming from local government in London and higher business rates in the city.
However, a third of the money is coming from the UK government. So what does the rest of the UK get out of the scheme?
Mr Morgan said: "There are so many answers to that question.
"Projects that are successful like this encourage more projects in my opinion so I think the agenda right now, about growth through investment in capital programmes, is critically important.
"I think looking at what's actually been happening over the past couple of years, with the Olympics and the commitment on other capital programmes like electrification of the Great Western main line are all examples of investment in infrastructure and by doing that we create a growth agenda and we create jobs."
There are opportunities for Welsh firms to win contracts. Mr Morgan was keen to stress that 500 tonnes of the steel used in the shaft I visited in east London had come from a company in Neath.