BBC Wales music dispute: Eos to be taken to copyright tribunal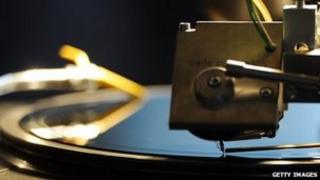 BBC Cymru Wales is to take Welsh language musicians to a copyright tribunal in an attempt to resolve the dispute over royalty payments.
The row has led to Radio Cymru losing rights to about 30,000 songs.
Eos represents musicians who have broken away from the Performing Right Society (PRS) after claiming they were being short-changed for their work.
Eos chief executive Dafydd Roberts said he had taken legal advice after receiving a letter from BBC Wales.
The corporation said it had offered to help support the legal costs Eos would incur as a result of the tribunal.
Eos has said a settlement with the BBC will need to apply across the corporation, such as Radio 2 where Welsh language records are occasionally played, and on television programmes.
The BBC says it is obliged to ensure value for money for licence fee payers, and a fair and reasonable resolution is needed.
In a statement about the tribunal, BBC Wales said: "Obviously, we'd prefer to come to an agreement without the need for a tribunal hearing, and that remains our focus.
"But if a permanent settlement cannot be reached through negotiation with Eos over the coming weeks, a tribunal hearing would ensure all the arguments are heard and that a fair and transparent decision on commercial rates could be reached.
"That's why we informed Eos last week that we would be starting the copyright tribunal process in parallel with our on-going negotiations, something we confirmed in an open letter to Eos yesterday.
'Arguments'
"By taking the significant step of offering to help support Eos' legal costs, we will ensure that Eos is able to put its arguments - arguments it has articulated widely for months - to the independent copyright tribunal which is the established legal process to resolve commercial disputes of this nature in a fair and binding manner."
The statement added BBC Wales would continue to discuss matters with Eos, and it would halt the tribunal process if it could reach a negotiated settlement with its members.
In response, Eos chief executive Mr Roberts said: "We've taken legal advice on that today, so we'll be considering our position in terms of a copyright tribunal.
"But what's disappointing is that whilst we thought we were negotiating with the BBC on various terms, in fact all they were doing was preparing ground for the copyright tribunal."
Meanwhile, ahead of a meeting on Tuesday Eos said it was considering allowing BBC Radio Cymru to play its members' music while the royalties dispute was sorted out.
Mr Roberts said he did not want the station to lose listeners.
Eos held the first of two annual general meetings at Chapter Arts Centre in Cardiff on Tuesday to discuss the situation. The second meeting will be in Caernarfon on Friday.