Betsi Cadwaladr: AM Aled Roberts criticises hospital refusals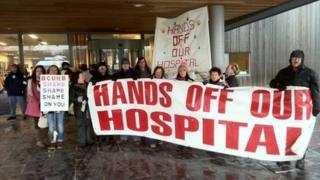 Community hospitals earmarked for closure in north Wales are implementing change too quickly by already refusing new patients, says a member of the Welsh assembly.
Aled Roberts says Betsi Cadwaladr University Health Board (BCUHB) is implementing changes too quickly.
The board has denied it is rushing through the changes.
It s suspending some admissions so if the closures go ahead as many patients as possible are saved disruption.
It wants to shut four community hospitals and transfer care for seriously ill babies to England.
Community health councils (CHCs) have six weeks to refer the plans to the health minister.
Mr Roberts, a Liberal Democrat, said: "All these units are subject to the current consultation and I don't understand why these changes have been put in to effect so soon given that the community health councils have until 1 March to make representations".
He claimed there was a "lack of regard for a proper process".
"The Betsi Cadwaladr Health Board clearly intend to circumvent that process and start reorganising health services before the health minister has a chance to make a decision on concerns raised by the Community Health Council."
CHCs have six weeks to refer the plans or any part of the plans to Health Minister Lesley Griffiths.
Depending on the nature of the objection, a scrutiny panel will be convened by the chief medical officer Dr Ruth Hussey and three independent members with appropriate clinical reconfiguration experience outside Wales.
A Welsh government spokesperson said: "National guidance is clear - CHCs should make every effort to reach agreement with the Health Board and referrals should only be used as a last resort. The minister will make a determination at the appropriate time."
'Premature'
Last month the health board announced that community hospitals at Blaenau Ffestiniog, Flint, Llangollen and Prestatyn would see services switched to 10 other locations.
The board also said it would move specialist intensive care for babies to England.
On Tuesday, however, the board confirmed the minor injury units at Llangollen, Chirk, Flint, Ruthin, Colwyn Bay and Blaenau Ffestiniog will close within the next two weeks.
The services will be consolidated in a seven day per week service in the hospital hubs with support from services at Bryn Beryl and Tywyn Hospitals.
Conservative health spokesman Darren Millar said the announcement was premature.
"Railroading closures through at this stage sends out a message of arrogance and indifference.
Plaid Cymru AM Llyr Huws Griffiths said health managers were "ploughing on regardless".
A spokesman for Denbighshire council said a meeting between councillors, chief executive BCUHB Mary Burrows, the council's chief executive Mohammed Mehmet and social services director Sally Ellis will be held over "concerns" from members over transition arrangements.
A statement said: "Staffing difficulties mean that we have not been able to offer a reliable service for many months, with units periodically having to close on a temporary basis.
"At this stage we are not closing any hospital beds or transferring any current inpatients to other hospitals. We are suspending admissions to these hospitals so that, if agreement is reached with the Community Health Council that the closures should proceed, we save as many patients as possible from the disruption of a transfer to an alternative hospital."