Sogefi, Llantrisant: 190 jobs go as engine factory closes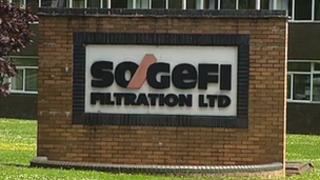 The loss of 190 jobs have been confirmed with the closure of a car parts factory in Rhondda Cynon Taf, a union has confirmed.
Production has ended at the Sogefi Filtration plant in Llantrisant after an official 90-day consultation period on redundancies came to an end.
Unite said just a few members of staff at the former Fram Filters plant were being kept on for decommissioning work.
Regional officer Andrea Jones said: "It will be devastating for the community".
She said the union had "fought hard" during the consultation period to retain the site in Llantrisant and persuade the company to invest in the factory so production could continue.
"Despite having a committed workforce, Sogefi decided not to go down that route and sadly production ended yesterday with the loss of nearly 200 jobs," she added.
The factory is known by many locally by its former name Fram Filters.
When it was announced in November that the factory would close, Ms Jones said it was a shock to workers as they had recently returned to full time hours.
It followed a "troubled period" in 2011 that saw half the workforce at Llantrisant being made redundant and the remainder being put on short time working.
The news came as 79 job losses were announced with the winding down of the car components plant Quinton Hazell Automotive in Mochdre, Conwy.