National Eisteddfod: Fixed bases would be a 'disaster'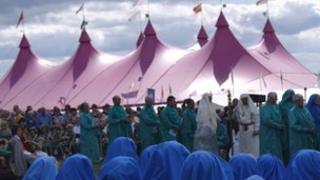 The chief executive of the National Eisteddfod says it would be a "disaster" if the event adopted plans to switch between two permanent bases and temporary venues.
A working group set up by the Welsh government has suggested the change.
But Elfed Roberts said with figures showing a drop in Welsh language communities, the need to travel was even more relevant.
The task-and-finish group is due to report to ministers in September.
Last week, figures from the 2011 census showed there had been a fall in the number of places where over half the population could speak Welsh.
There are 157 council wards with over 50% of residents who are Welsh speakers in 2011, compared to 192 in 2001.
In a letter to eisteddfod supporters, Mr Roberts said: "We know that the group has discussed and considered having the eisteddfod on two permanent sites, and this concerns us greatly.
"We feel that this would halve the influence and contribution the festival makes and this would be a disaster in our time.
"Not only would the time the festival travels be halved, and so its influence and contribution, but there is a real danger that the eisteddfod faithful, who attend the event regularly, would get fed up attending the same place too often.
"As we face one of the most challenging times for the Welsh language ever, the role of the travelling eisteddfod is more relevant for us as a country than it was in the past."
Economic impact
The 12 members of the task-and-finish group, who include Hay Festival director Peter Florence, Lord Elis-Thomas AM and BBC broadcaster Roy Noble, are looking at nine topics.
The biggest proposed change would mean having a four-year cycle for the festival.
In two of those years, the eisteddfod would be held at permanent bases, possibly in north west Wales and west Wales, while in the other two years it would alternate between temporary homes in north and south Wales as it currently does.
The group will examine possible tourism and economic benefits of such an arrangement.
Other areas of discussion include separating the organisation of the eisteddfod week from the organisation of the competitive events during the festival, maintaining volunteer commitment, and maximising media impact in the digital age.
They will also consider other sources of income for the eisteddfod, sharing resources with the Urdd youth organisation, increasing visitor numbers - including non-Welsh speaking families - and better assistance to new and English-speaking visitors.
The eisteddfod is due to be held in Denbighshire this year.
The festival receives about £500,000 from the Welsh government.