Wales snow: Warning of possible travel disruption on Sunday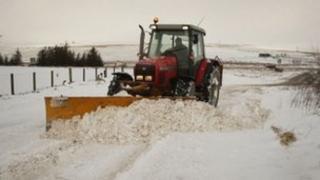 Snow could cause travel disruption in parts of Wales on Sunday, the Met Office is warning.
A yellow "be aware" warning for snow has been issued for much of eastern Wales all day from 06:00 GMT.
Higher ground is expected to be hardest hit with persistent rain more likely at lower levels.
On Monday, a yellow warning for ice is in place which the Met Office says could lead to problems during the morning rush hour.
There is also a chance of some snow on higher ground overnight on Saturday.
Snow caused major problems across Wales last month, closing schools and roads, and causing power cuts.
The snow returned last week but much of it was on high ground with schools avoiding disruption.
Heavy rain has also posed problems in recent weeks causing flash flooding.
A landslip brought a tree and foliage onto a railway track near Bargoed last month and partially derailed a train.
On Saturday, a landslip was reported near Fforestfach Retail Park in Swansea which closed the A483 westbound for a short time.
Forecasters say rain early on Sunday morning over western Britain is expected to turn to snow as it spreads eastwards.
The snow will become heavier and potentially disruptive, with lower ground in the north east potentially affected later in the afternoon and overnight into Monday.
However, any snow cover is likely to be "very variable", said the Met Office.
Ice could become a hazard during the Monday morning rush hour in eastern parts of Wales.
"The public should be aware of possible disruption to transport," the Met Office warned.
The enhanced content on this page requires Javascript and Flash Player 9
Map Key
Land
Cloud
Lakes, Rivers & Sea
Fog
Light
Heavy
Frost
Light
Heavy
Pressure Fronts
Cold
Warm
Occluded
Rain
Light
Heavy
Extreme
Snow
Light
Heavy
Temperature tab only
Temperature (°C)
More details from BBC Weather