Airbus wing ship checks under way in Holyhead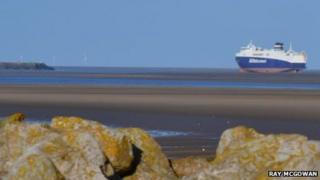 An Airbus wing cargo ship has arrived at Anglesey for safety checks after being stranded in the Dee estuary.
The Ciudad de Cadiz was refloated on Saturday after being stuck on a sandbank outside Mostyn port in Flintshire since 30 January.
The ship arrived at Holyhead at 07:50 GMT on Sunday.
It will now undergo extensive underwater structural surveys to ensure it sustained no damage during the 11 day incident.
The 125m vessel became stranded after slipping its moorings outside Mostyn Docks, where the ship was due to pick up plane wings made at the Airbus factory in Broughton.
It is one of three ships used by the company to ferry the wings from north Wales to its assembly factory at Toulouse in southern France.
Earlier attempts to refloat the vessel had to be abandoned due to high winds and lower than expected tides.
Salvage teams were forced to wait until Saturday morning for a higher spring tide in the estuary.
A spokesperson for the coastguard said the Ciudad de Cadiz arrived safely at Holyhead after undergoing an initial safety examination at Mostyn on Saturday.