London Olympics: People playing sport rises after Games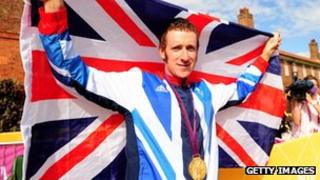 The number of people playing sport in Wales has increased dramatically since the London Olympics, according to new research.
Swimming and boxing have seen the biggest rises of more than 30% in the six months after the Games, according to Sport Wales.
It said 30 new canoeing clubs had been set up to cope with a surge in demand.
One of the legacy targets of the 2012 Games was to increase the number of people playing sport around Britain.
The latest research follows a BBC Radio Five Live poll last month which suggested around one in five people have been inspired to play sport by the Olympics.
Chair of Sport Wales Prof Laura McAllister said: "We were clear in the lead up to the Games that we wanted Welsh success in terms of performance and medals to be mirrored by grassroots participation.
"Work began with partners to ensure that any child inspired by our Olympians and Paralympians had every opportunity to get involved, and encouragingly we're now seeing the fruits of that labour."
Sports such as gymnastics (25%), hockey (32% of clubs), swimming (39%), cycling (24%), boxing (33%) and athletics (12%) have all reported significant increases in participation, while 30 new canoeing clubs have been set up to cope with the surge in demand spurred by the Games.
Debbie Austin, Sport Wales Manager charged with supporting and challenging Wales' governing bodies, said: "Swimming, gymnastics, hockey and cycling are just a few examples of where we're already witnessing the London 2012 legacy in Wales and let's be clear there is no coincidence in the increase in participants here.
"The launch of the vision for sport in Wales set a challenge to the sector to become more targeted and focused in their delivery and both Welsh Gymnastics and Swim Wales were among the first governing bodies to respond.
"Creating their own vision and ambitions for their sports; they are now reaping the rewards.
"Prepared and ready to welcome new members, their structures were stable enough to cater for the demand and as a result they have seen their membership numbers increase."
In December, Sport England said the number of people playing sport at least once a week grew by 750,000 in England last year.
The impact and success of the London Olympic and Paralympic Games had helped boost numbers, it said.