'Welsh' sailor to be buried in Washington after 150 years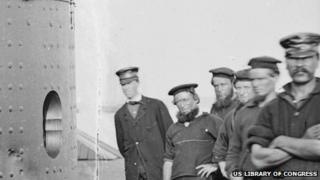 The remains of a crew member of a sunken US Civil War ship, who experts believe may have been born in Wales, will be buried with full military honours at Arlington National Cemetery in Washington next month.
The USS Monitor sank in a gale off the coast of North Carolina on New Year's Eve in 1862 with 63 crew on board.
The iron-clad vessel of the Union forces had been in battle with the Confederate vessel CSS Virginia of the southern states.
Sixteen men died and the bodies of 14 of them were never recovered.
However, two of the bodies remained trapped in a gun turret on the vessel for 140 years until a section of the wreck of the Monitor was brought to the surface a decade ago.
'Swarthy complexion'
The US Navy has spent 10 years trying to ascertain the identity of the two skeletons. Last year, experts from Louisiana State University put on display clay facial reconstructions based on models of their skulls.
Researchers pointed to a strong resemblance between one of the models and photographs of the USS Monitor's Welsh-born first-class fireman, Robert Williams.
Williams was born in Wales in 1832. After emigrating, he enlisted with the US Navy in New York for a three-year term on 15 February, 1862.
Military records describe him as "5ft 8½in, hazel eyes, black hair, swarthy complexion".
However, details of his Welsh ancestry are sketchy and because of his common surname researchers have been unable to trace descendants who could provide a DNA sample to confirm the identity of the remains.
Definitive proof
Experts say there is strong evidence that one of the skeletons is that of Williams because it matches his known height.
In the absence of definitive proof, however, the two sailors will go to their graves as unidentified.
The remains will be escorted from a US military base in Hawaii early next month and buried at Arlington National Cemetery on 8 March.
US Navy secretary Ray Mabus said the men may be the last Navy personnel from the US Civil War to be buried at Arlington.
Although the men have not been formally identified, officials say the case will remain open should new information come to light.