Missing soldier: Royal Welsh Simon Daw's father in appeal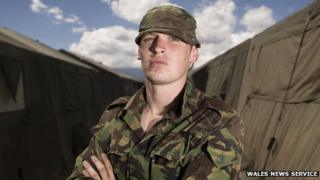 The father of a 26-year-old Welsh soldier who has gone missing during a holiday in the French Alps says he is hoping for news of him.
Simon Daw, from Pontprennau, Cardiff, was on leave from 1st Battalion The Royal Welsh and was staying at the ski resort Les Deux Alpes with friends.
A keen snowboarder, he was last seen on Wednesday.
His businessman father Vincent Daw, 59, said: "We are waiting for news, but we haven't heard anything yet."
He went on: "The information about Simon is out there and we are just waiting for any update. All we can do is hope for the best."
Mr Daw, his wife Julie, 54, youngest son Joseph, 22, and daughter Kate, 18, have been waiting for news from their home.
The soldier, who studied at Corpus Christi Roman Catholic High School, is now based in Chester.
He is 5ft 9in (1.75m), slim and with short blond hair. He was last seen at a bar just after midnight on Wednesday, and that evening he had been wearing a grey hooded sweatshirt, beige jeans and black trainers.
His two friends he was on holiday with had gone home but raised the alarm when Mr Daw failed to return to their rented flat in Venosc.
Police said Mr Daw and his friends had not been drinking heavily. Temperatures at night have reached -15 C [5F]
A police spokesman said: "It is a mystery at the moment. We are searching on foot and from the air. We are very concerned about his whereabouts.
"We understand that he had not consumed an excessive amount of alcohol that night.'
Army spokesman Gavin O'Connor said: "His family have been informed and we're offering them the support they need at this time."
The Foreign and Commonwealth Office said: "Consular staff are in contact with French police who are conducting a search. We stand ready to provide consular assistance."
Soldiers from the 1st Battalion The Royal Welsh Regiment returned home in October last year from a six-month tour in Afghanistan, during which they lost two comrades.
The 80 soldiers were reunited with their families at Dale Barracks in Chester.