Brian Coleman: Auction for boxing's unsung hero raises £3,000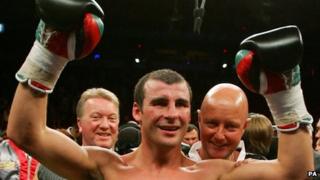 An auction for an unsung boxing hero who has been diagnosed with brain tumours has raised more than £3,000.
Brian Coleman spent 12 years as undefeated world boxing champion Joe Calzaghe's "cut man", and needs on-going care.
Famous names from the sport, including Mike Tyson and Roberto Duran, donated lots which went under the hammer in Mountain Ash, Rhondda Cynon Taf.
Organisers said goodwill messages were read out, including one from the Queen.
Mr Coleman, 66, from Mountain Ash, may not be a familiar name to casual boxing fans, and he only enjoyed a modest career inside the ring.
But as trainer of the Kyber Colts Gym in Penrhiwceiber he coached over 200 Welsh, British and Commonwealth champions.
The auction's organiser Dai Jones said: "It was a very special night.
"One of the highlights was a letter from Her Majesty the Queen. She thanked Brian for all his good work with young boxers and wished him a speedy recovery and best wishes for the future.
"He also had goodwill messages from boxing champions Frank Bruno, Sugar Ray Leonard, Nigel Benn and Chris Eubank which were all read out on the night, while Gavin Rees phoned Brian before his world title fight in New York to send him his best wishes."
A pair of shorts worn by the Panamanian boxing star Roberto Duran during his first WBA title win over Ken Buchanan in 1972 raised the most money, going under the hammer at Nixon's social club for £800.
A signed photograph of the legendary Sugar Ray Leonard, along with two tickets to an event the ex-boxer is speaking at in Doncaster, raised £500.
'Fantastic night'
Calazghe donated the gloves he wore in his defeat of Bernard Hopkins and they sold for £230, while a small sighed photograph of the former undisputed world heavyweight champion Mike Tyson sold for £75.
Meanwhile, a Manchester United shirt donated by Rio Ferdinand was raffled for £280.
"We had over 300 people at the auction and we had a fantastic night," Mr Jones said.
"The auction raised £1,750, we took £1,000 on the door and £280 from the raffle."
Mr Jones added that bare knuckle boxing champion James Quinn-McDonagh was one of the evening's guests and took many questions from the floor.
As Joe Calzaghe's "cut man" for 12 years, Mr Coleman patched-up the southpaw throughout his undefeated multiple-belt reign as super middle-weight world champion.
"Brian's forgotten more about boxing than I'll ever know," explained Calzaghe before Saturday's auction.
"He can read a fight better than anyone I've ever met.
"I had so many problems with my hands throughout my career, and Brian looked after them like two newborns."
Mr Coleman himself is a lot more humble about his part in Calzaghe's success.
"Being cut man to Joe was the easiest job in the world - no one could lay a glove on him," said Mr Coleman.
"His hands were a worry, but managing that was more of a mental than a physical thing."
In 2010, Mr Coleman was honoured with a lifetime achievement award from the World Boxing Council.