BBC Wales journalists join UK-wide strike over compulsory redundancies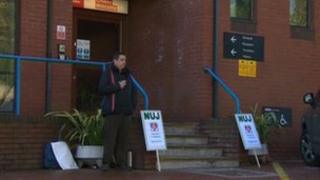 Journalists from BBC Wales are taking part in a UK-wide strike over compulsory redundancies.
The industrial action has caused disruption to the BBC's news services in Wales, with radio and television programmes curtailed or cancelled.
Radio Wales replaced its Good Morning Wales programme with short news bulletins and repeats of other speech programming.
Radio Cymru broadcast a short edition of its Post Cyntaf breakfast show.
Breakfast television bulletins on BBC One Wales were cancelled, while the 13:30 GMT edition of Wales Today was replaced with a shorter news bulletin.
Delivering Quality First
BBC News online was operating on a smaller staff.
Small pickets were formed outside BBC buildings in Cardiff and Bangor in support of the strike.
Members of the National Union of Journalists (NUJ) voted to take industrial action after failing to reach agreement with the BBC over the treatment of around 30 staff who face losing their jobs.
The staff at risk are based at the BBC's operations in Scotland, the English regions, and radio stations including Five Live and the Asian Network. The cuts are part of the Delivering Quality First (DQF) programme of savings, which includes the loss of 2,000 jobs over a five year period.
Reduce budgets
A number of jobs have already been lost by journalists at BBC Wales.
BBC Cymru Wales director Rhodri Talfan Davies said there had been a significant impact on services and it was disappointing that BBC Wales could not provide the key national service that it normally does.
"Clearly the BBC regrets losing anybody, but we're living in very tough times," he said.
"We're having to reduce our budgets in line with the licence fee settlement, and inevitably in that situation we can't provide guarantees that there won't be compulsory redundancies, that's not the world we're living in."
The BBC's Welsh affairs editor, Vaughan Roderick, has used a personal social media account to support the NUJ strike, but questioned the union's response to previous redundancies in Wales.
Significant savings
He told his Twitter followers: "We're asked to go on strike by the NUJ about people we don't know when the NUJ did nothing about our friends.
"Three valued co-workers suffered compulsory redundancy - the NUJ did nothing. I'm not going to the barricades for people I don't know," he added.
The BBC said it was disappointed by the strike action and apologised to audiences for the disruption caused to programming.
A BBC spokesperson said: "Unfortunately, industrial action does not alter the fact that the BBC has significant savings targets and as a consequence may have to make a number of compulsory redundancies."