Health boards fail to plan their budgets, report claims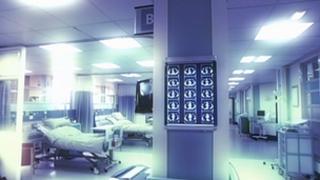 Local health boards across Wales are failing to plan their budgets effectively, a report claims.
The assembly's public accounts committee says it found some health boards start the financial year without a plan to break even.
Others produce savings targets without a realistic strategy to achieve them.
Controversial changes to health services are being proposed across Wales with campaigners in north Wales considering a legal challenge.
The committee is calling on the Welsh government to produce a break-even budget at the beginning of each financial year supported by robust and comprehensive savings plans.
'Flexibility'
It also recommends a change in the law to allow NHS organisations to make more effective use of funding across financial years.
"The NHS in Wales is going through an unprecedented period of change at this time," said Darren Millar AM, who chairs the committee.
He said health boards are having to make difficult decisions in "balancing high quality standards of care with financial responsibility".
"The committee is concerned by some of the apparently unrealistic and over-ambitious forecasts that we have seen during the course of our inquiry.
"We urge the Welsh government to examine such proposals stringently while also allowing some flexibility for health boards to make more effective use of their funding across financial years."
First Minister Carwyn Jones has said health services would "collapse" unless hospitals were reorganised and changes to the NHS in Wales were necessary.
Wales' seven health boards are finalising reorganisation plans, many of which have sparked protests by opponents.
In north Wales campaigners are seeking legal advice with a view to forcing a judicial review into the controversial reorganisation scheme there.