Horsemeat: 'Food fraud' not put health at risk, says expert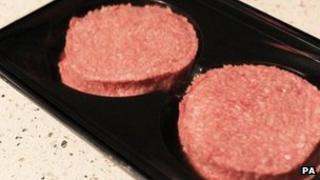 An expert in bacteriology says that authorities in Wales have not been slow to react to the horsemeat scandal.
Prof Hugh Pennington says the issue is about "food fraud" and people's health has not been put at risk by products adulterated with horsemeat.
On Thursday, Merthyr became the eighth council to withdraw certain meat products from schools and care homes amid fears of horsemeat.
Their Welsh supplier said a sample of meat had "potentially" tested positive.
Conservative rural affairs spokeswoman Antoinette Sandbach AM called for quicker action by ministers to reassure the public about the integrity of food products in the wake of the horsemeat scandal.
But Hugh Pennington, emeritus professor at the University of Aberdeen, who chaired the inquiry into the 2005 E.coli outbreak in south Wales, said: "I don't think that either Welsh government or the authorities in England or anywhere else for that matter have been slow to react.
"They are in the hands of the testing and the testing is difficult to do, to get right.
"At then end of the day the public should be reassured that nobody's health has been at risk by this," he told BBC Radio Wales.
"That's the number one thing, it's an issue of fraud."
On Thursday, Merthyr withdrew meat products to schools and care homes as a precaution.
On Wednesday Swansea council said its own test found horsemeat, while Bridgend, Neath Port Talbot, Cardiff, Carmarthenshire, the Vale of Glamorgan and Pembrokeshire said they took action as a precaution.
Supply chain
The council are part of a consortium of local authorities supplied by Welsh Bros Ltd, of Newport, south Wales, who believe it was an isolated incident.
Welsh Bros said it was shocked and had been let down by a non-Welsh firm.
Kevin Morgan, a professor at Cardiff University and the author of The School Food Revolution, a book about the supply chain behind cafeteria food, said the supply network was complex and should be better regulated.
He told BBC Radio Wales the issue highlighted the length and tiers involved in the food chain and that providers were unable to ensure the contents of products.
"The shorter the supply chain the more transparent it is but even then we need to regulate it," said.
Alan Heycock, managing director of Welsh Bros, said: "We do our best to promote quality British products".
The batch of meat involved was distributed in December 2012.
The company issued a formal statement saying a sample of meat had "potentially" tested positive for horsemeat but the company had taken the decision to inform customers and withdraw the product immediately.
The Welsh Local Government Association (WLGA), the body that represents councils in Wales, said the fact the contamination had been identified was "testimony to the rigorous checks and tests that local government is conducting and demanding of its complex supply chain".