Pub body hidden: Boot Hotel's Jason Chidgey has jail cut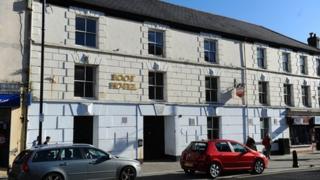 A pub landlord who hid a regular's body because he did not want to miss out on a busy weekend of trade has had his jail sentence reduced on appeal.
Jason Chidgey failed to report that Mark Howells, 48, drank himself to death at The Boot Hotel in Aberdare.
He left the body in an upstairs room until after the weekend in 2011.
Chidgey, 29, who was jailed for 15 months after admitting perverting the course of justice, had it cut to nine months at the Court of Appeal.
Merthyr Crown Court heard in October last year how he arranged for the body to be "found" by a member of staff.
At the Court of Appeal, Sir Hugh Bennett, sitting with Lord Justice Laws and Mr Justice MacDuff, reduced the publican's "manifestly excessive" sentence.
They said the case was different to those in which bodies were hidden to conceal crime.
The court heard that Chidgey found Mr Howells's body in an upstairs toilet at the pub in the early hours of January 28, 2011. He had died from acute alcohol poisoning.
However, it was the beginning of a busy weekend and, not wanting to miss out on trade, Chidgey decided against telling anyone about the body, the court was told.
The landlord then enlisted the help of a member of staff to say that she had found the body when she arrived for work a few days later, the court heard.
Financially motivated
However, the woman went to police and Chidgey was arrested.
Sentencing him, the crown court judge said he took into account Chidgey's mitigation, including the fact he had been drinking heavily because of an unhappy personal life.
But the offence was greatly aggravated by the disrespect he had shown for Mr Howells's body and that the offence was purely financially motivated.
Jeremy Jenkins, for Chidgey, argued at the appeal hearing that the sentence was too long and succeeded in winning a reduction.
Giving the judgment, Sir Hugh said: "We quite understand the learned judge's remarks about the aggravating features of this nasty offence.
"However, it does seem, with respect, that the facts of this case are indeed distinguishable from the facts of a case when a body is concealed by a person concealing a criminal act.
"Accordingly, we propose to allow the appeal and substitute for the sentence of 15 months one of nine months' imprisonment."