Pembrokeshire Meat Company abattoir shut over safety concerns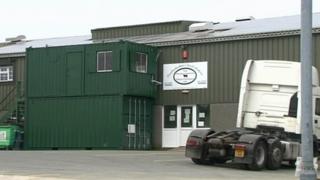 A Pembrokeshire abattoir has been closed by health officials over concerns its meat processing procedures were not safe.
The Food Standards Agency (FSA) said the action taken at Pembrokeshire Meat Company in Haverfordwest was in no way connected to the horsemeat scandal.
Deficiencies relating to food production controls and the building's condition were not addressed, it said.
The firm said systems had been put in place and it expected to reopen soon.
Its solicitor Aled Owen said he was hopeful the plant would be back in operation towards the end of next week.
The abattoir was closed last week after a visit from an FSA veterinary manager.
An FSA spokesperson said the visit followed deficiencies first identified early last year relating to the condition of the building and the ineffectiveness of controls to ensure safe food production, particularly the cleaning system.
"They were informed of the deficiencies identified and the work needed to be done to rectify it," she said.
"When these were followed up, the veterinary manger wasn't satisfied the business was meeting the food law requirements."
She added that the FSA would not allow a slaughter house to operate if it was not "following the proper procedures to ensure the meat they process is safe".
Aled Owen, solicitor for Pembrokeshire Meat Company, said: "The company wasn't aware of the full list of deficiencies until a very late stage in this procedure.
"Having been advised fully, they have implemented new systems to deal with these minor technical issues.
"The company is co-operating with the FSA to address these matters and believe that all issues will be addressed by Thursday this week with the plant back in operation."