Wristbands warn of alcohol risks for young in Cardiff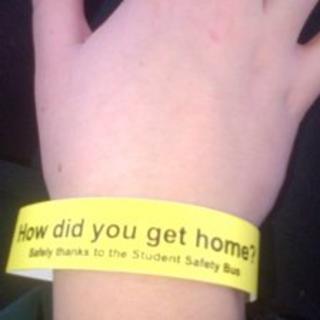 Young people in Cardiff who drink too much could find themselves waking up wearing a yellow wristband asking: "How did you get home last night?"
It is part of a scheme to highlight the risks posed by too much alcohol.
Student volunteers and police in a minibus run by the city's universities will put the bands on revellers they find worse for wear on their way home.
The initiative is backed by Cardiff council, South Wales Police and the universities.
The wristbands scheme operates alongside an existing city centre triage centre and the minibus service which patrols busy student areas for people in trouble.
Emma Robson, the universities' joint student liaison officer, said the services were open to anyone in trouble.
"The minibus covers what are mainly thought of as the student areas of the city, but if we see someone struggling or in need, of course we'll help them whoever they are - and won't stop to ask for a student card".
"As well as student volunteers, the bus carries either a special constable or a police officer, to help persuade drunk people to let us take them to a place of safety, or maybe just give them a free ride home if that's all they need."
She said that even though the year-old minibus and triage schemes have been working well at preventing dangerous situations, they were still seeing the same number of people,
"We were concerned that we can take people out of danger, but that when they wake up in the morning they underestimate just how vulnerable they were. Sometimes they've even forgotten altogether how they got home, and just shrug and laugh the whole thing off."
"The yellow wristbands are slipped on, but in the morning they'll hopefully encourage the wearers to think a bit more about how they came to have it in the first place."
But Ms Robson is keen to emphasise that not everyone picked up by the bus is drunk, and that recipients should not feel preached at.
"Obviously we do see a lot of people who are the worse for wear through drink, but also girls who simply underestimated the walk home in heels, foreign students who've become lost and anyone who just looks like they need a hand."
"By giving them a wristband, we're not issuing a warning - they've done nothing criminal. All they're intended to be is a suggestion that maybe it's worth giving a little more thought to what happened.
'Safe city'
"Whether that leads them to make a change in their lifestyle is entirely up to them."
The wristbands also contain a QR code, which can be scanned over a smartphone to give more details of how the wearer got home.
Student liaison officer PC Tim Davies said: "The scheme is just one of a range of initiatives in the Cathays area designed to keep students safe.
"Cardiff is safe city and we continue to work hard with our partners to keep it that way."
He said the safety bus is supplied free by Cardiff students union and run by police student volunteers.
It was introduced in May 2011 to reduce robberies and assaults in Cathays in the early hours by identifying vulnerable people and taking them home.